"Discover How You Can Increase Your Creativity With My Easy Step-by-Step Program!"
This book contains the one secret key you'll ever need to unlock your creativity.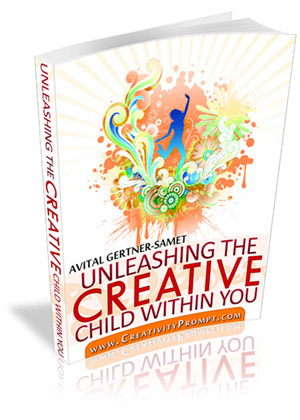 Have you lost touch with your creativity?
Do you regret not finishing your paintings or scrapbooks?
Do you miss the simple and utter joy of creation that you once knew as a child?
Would you welcome a way to get it back? And with it, the passion, purpose and fulfillment that's been missing from your life?
If any of these questions make you stop and think... then I have the perfect e-book for you.
Wouldn't it feel wonderful to experience that sense of creative freedom again? And to feel it on a regular basis? Creativity is available to anyone, no matter who they are or what they do. Because that spark of creativity you knew as a child continues to smolder within you, awaiting your summons. In other words, that creative child within you still wants to come out and play...
In this e-book you will discover...
a simple formula to increase YOUR creativity, rather than mold and shape your creativity to the standards of others…
how to recognize and get rid of the creativity blocks in your life.
how to think outside the box and discover the joy of making your own creative way in the world…
a process to regain the creative enthusiasm you had as a child…
carefully designed exercises to help you reinvigorate your creativity and recognize the joy and reward that comes from creative expression.
how you can live your life in a more creative way.
the one technique to stop listening to the marketing prompts that invade our consciousness daily and rob us of true creativity…
the system to create a direct and immediate link to your creative inner child, who is waiting to come out and play…
There is no fluff here, no rhetoric and no shallow new-age promises. This book is a concise roadmap toward enabling your renewed creative expression.
Once you begin this journey, there is no looking back. Because when you live creatively, the only place you'll want to look is to the future, where the next creative reward awaits.
Get "Unleashing the Creative Child Within You" for just $12.95 and watch your creativity grows!

Instant Download!
100% Satisfaction Guarantee
I am so confident that this book will boost your creativity that I can offer you my unconditional 100% satisfaction guarantee. As you read every page and use all the tips and techniques, you'll notice how you become more and more creative.
But if, for any reason, you don't get more creative after reading this book, then simply send me an email within 56 days of your purchase, and I will refund 100% of your purchase price, no question asked. That's how certain I am that you too will discover the joy of being creative.
Download "Unleashing The Creative Child Within You" Now