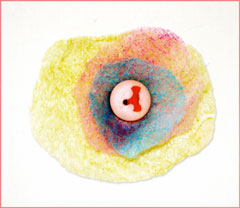 This week's creativity prompt is more of an idea on how to reuse drier sheets after they have made your laundry smell fresher and become softer. You know how much I love recycling, so this project is right up my alley.
It takes merely seconds to make this flower and it has a fabric-like texture. Think of it as a tissue paper that won't rip.
The added bonus of the drier sheet is that even after it does its job inside the drier machine, it still holds its smell. That means that you are not only adding cuteness to the project but a scent too!
Tools & Supply
How To
Step by Step Instructions
Cut 3 circles out of the drier sheet, freehand.
Crumple the circles for some added texture.
Add color by rubbing ink directly onto the circles. If the ink pad falls off, no worries. Stick it right back with a glob of Diamond Glaze.
Cluster the circles together and adhere with Diamond Glaze – a dot of glue will do. (dry adhesive, like a tape runner or glue dots will not work)
To finish off the look, thread an embroidery floss through a button and adhere to the top circle with another dab of Diamond Glaze.
Let dry. After the adhesive has dried up and hardened, you can go ahead and attach the flower to the project with a glue dot. (Position the glue dot directly on the hardened adhesive).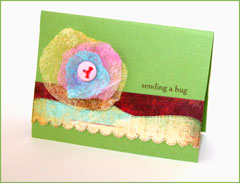 Share
Share your thoughts and your own drier-sheet creations by leaving a comment!
Tags: cards, creativity, creativity prompt, Drier sheet, dryer sheets, flower, recycling, Tutorial, Video Tutorial