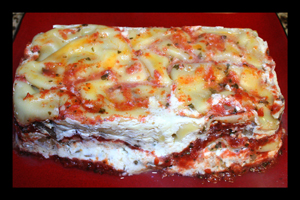 I have recently shared with you the lifestyle change my husband and I have implemented. One of the main building blocks of our new regime is healthy eating.
As we see it, healthy eating isn't giving up good food and succumbing to rice crackers. In our mind healthy eating is plentiful, rich in flavor and scrumptious in general.
We consider ourselves foodies and wish to keep the title – diet or no diet.
Many of you contacted me after sharing my story and have shown interest in our new journey. Therefore I thought to introduce a new feature here on Creativity Prompt, called: The Healthy Kitchen Prompt in which I will share recipes I invented that keep the flavor but ditch the extra calories away.
Please let me know what you think about this new feature, incorporating creativity in the kitchen…
Lasagna For Two
(small loaf pan, big enough for one lasagna sheet)
300 Calories per serving
Lasagna has been a struggle for us. We love it but cannot employ portion control with all the cheese that is traditionally added to it. Another issue is the size, the traditional lasagna pan yields enough servings for a very boring lunch/dinner menu all week long…
Finding the right balance of: taste, calories and size has made me very happy.
Ingredients
2 no-cook lasagna sheets
1/4 C low-fat cottage cheese
1/4 C half-skim ricotta cheese
1/4 C Freshly grated Parmesan cheese
1 small can of diced tomatoes
1 C fresh basil leaves
4-5 cloves of garlic
Italian seasoning or dry oregano
Salt and Pepper
Olive Oil Spray
1 jumbo egg
1/2 large onion – peeled and cubed
1/2 C sliced mushrooms
1/2 Eggplant – peeled and cubed
How To
Spray a frying pan with a light coat of oil, saute the onions on medium heat.
When the onions become translucent, add the mushrooms and eggplant and add 1/4 C of water (TIP: adding water will help you get the "fried" vegetables flavor without the extra oil).
Pre-heat your oven to 350F/180C.
In a small blender put the canned tomatoes, garlic, fresh basil, salt, pepper and oregano and blend together to a smooth consistency.
In a separate bowl mix together the cottage and ricotta cheese, an egg, salt and pepper, until they are all combined together.
When the vegetables soften, but not cooked all the way through, take them off the stove and mix together with the cheese mixture.
Spray your loaf pan lightly – make sure the edges are all covered – and pour in 1 Tbs of the tomatoes mixture and spread on the bottom of the pan.
Lay a lasagna sheet on top.
Pour in 1/2 of the cheese and veggies mixture and spread evenly.
Pour 1/2 of the tomatoes mixture and spread evenly.
Sprinkle 2/3 of the Parmesan cheese on top.
Lay another lasagna sheet and repeat with 1 cheese layer, 1 tomatoes layer and the rest of the Parmesan.
Cover with foil and put in the pre-heated oven for 45 minutes.
When the timer goes off, keep the oven working and take the pan out. Take off the foil cover and put the pan back in the oven for 15 more minutes.
Wait 10-20 minutes before serving.
Bon appétit!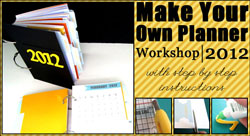 Check out Creativity Prompt's new and unique self paced workshop: "Make Your Own Planner".
This workshop will show you how to make a beautiful handmade planner for the year 2012. Not only are you going to get the entire meticulously designed planner kit for instant download, but you will also get a high resolution video tutorial as well as step-by-step instructions to guide you on each step of the way. Either treat yourself with a fresh and creative start for the coming new year, or get it to create wonderful gifts for your family and friends.
Join now
Tags: Diet, Dinner, Health, Healthy Kitchen Prompt, Lasagna, Pasta, Recipe, Vegetarian