On Friday my husband turned thirty.
My beautiful, wonderful, perfect husband has joined the thirty something group and I will join him in October.
I wanted to make a book telling him how awesome he is while incorporating photos from the last year in our life (and one from 29 years ago…)
The easiest way for me to go about it was to make a hybrid mini album.
A hybrid is an album created partly digitally on the computer and partly traditionally with papers, adhesive and other scrapbooking goodies.
I created all the photo collages and titles for the album with Adobe's Photoshop Elements 8.0 and the rest by hand, here is how I went about it:
Supply
In this album I was using a ton of different products I have had piled up in my office, so I will not tire you with the complete list. I will only highlight some of the main products I was using and loving.
Step By Step Instructions
Digital Part
Open a letter size file with 300 DPI resolution.
Use the rectangle shape tool to draw a 6 by 6 square in the middle of your page – that will be your page base. Choose a very faint color for the square, to save ink later…
Create your design only on the 6″ by 6″ area. (I only used fonts, "Impact" in particular.)
To print your design, click on the eye icon next to the layers with your page design, that will conceal everything but the 6 by 6 square.
Print your page on plain copy paper. It will be used as your positioning guide later.
Now conceal the square by clicking on the eye icon and reveal your design again.
Adhere a 6″ by 6″ piece of cardstock to the printed rectangle on your copy paper. Use temporary adhesive to make its removal easier.
Put your copy paper through your printer again, with the cardstock attached to it.
Print your page design.
Repeat. (You don't have to print the positioning guide again if you don't move the square on your screen.)
For the photos I just cropped each photo individually to the size I wanted it and layered all the photos on a letter size document I then printed on photo paper.
Traditional Part
Crop all your photos.
Design your pages, add letter stickers to add texture to the rather flat printed titles.
You may also use the free journaling tags you can find here, on Creativity Prompt. They will help you add your journaling in an easy and polished way.
After you finished all the pages design, gather all the pages in the order you want them to be and make sure no page is rotated.
I also added two 6″ by 6″ acetate pages to protect the front and back cover pages.
Use the crop-a-dile to punch holes for the book rings. Punch them at 1″, 3″ and 5″, about ½" from the edge.
Photos of the Finished Mini Album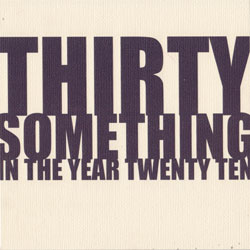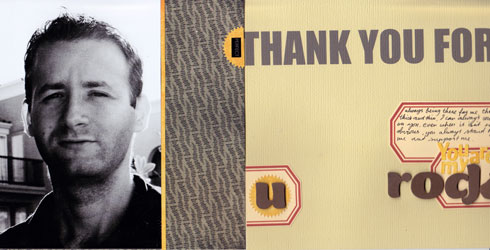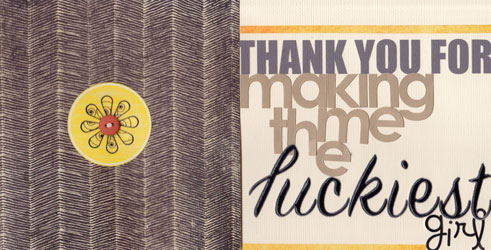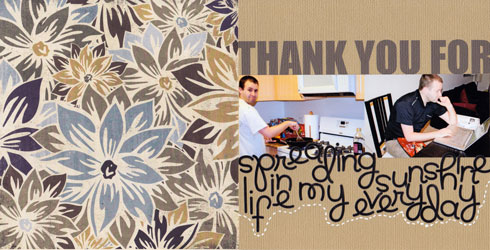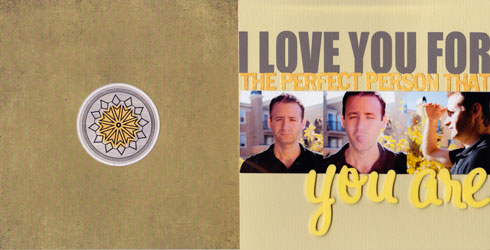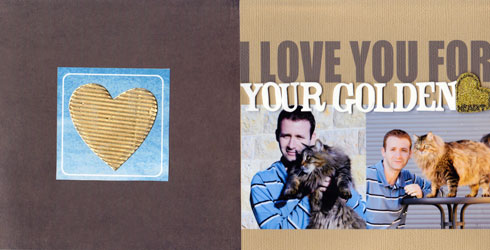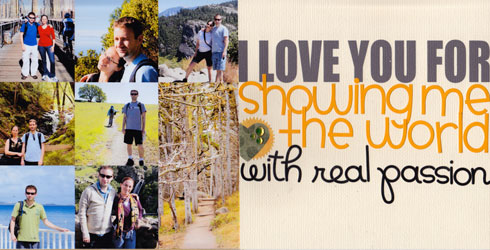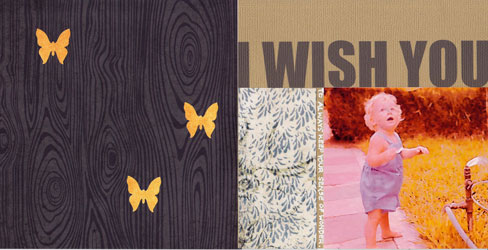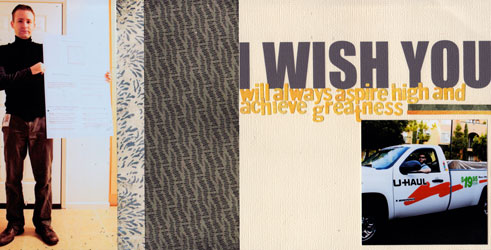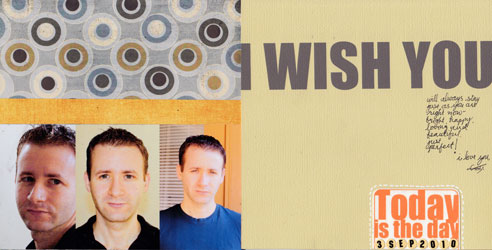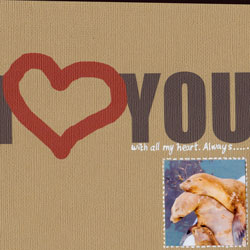 Share
Do you use the computer to add titles or other elements to your scrapbook pages? Please share by leaving a comment here.

Check out Creativity Prompt's new and unique self paced workshop: "Welcome Little One". This workshop will provide you with everything you need, and then some, to make a fabulous handmade mini album to record the first moments of a new born baby.
Tags: Hybrid Scrapbooking, mini-album, mini-book, scrapbooking, Tutorial