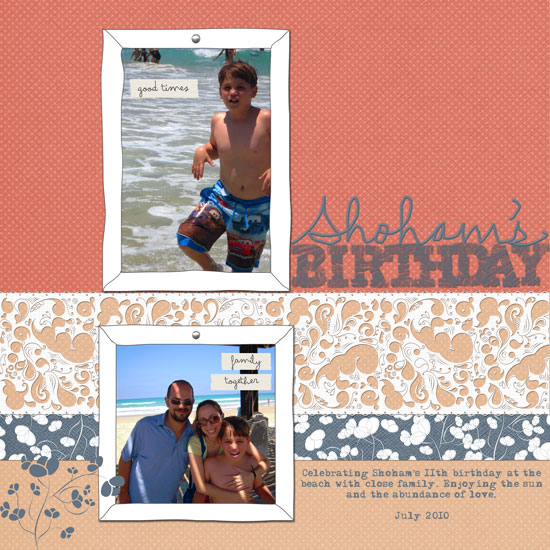 [
Font:
Adler;
Digital Kits:
Sailora and Stamped Alphas 1 – all by
Karla Dudley
.]
My husband and I are extremely fortunate.
We get to travel a lot.
We experience living in different continents.
We are learning new cultures.
We are meeting new friends from all around the world.
We are following our dreams freely and passionately.
Indeed we are very lucky (not to mention that we have each other).
But our adventures and unique lifestyle also encapsulate a huge drawback –
we are living far away from our families.
We live far away from our childhood friends and soul-mates (except for us two).
Very far away.
Too far.
The distance is so long that no web connection can adequately bridge between us.
The distance is so long that our hearts sometime feel disconnected and torn apart.
I had such a wonderful connection with my family (and with Nadav's).
I used to meet my sister every week for a coffee.
I used to meet my niece and nephews at least once a week.
I used to attend every birthday party, even if it meant being late to an important meeting or leaving it early.
I had a wonderful connection with my niece and nephews and now distance is tearing me apart from them.
Occasionally I send them handmade cards which they collect but they keep getting less and less inclined to speak with me when I call via Skype.
And worse of all, I miss all their birthdays…
I wish there was a way to enjoy all worlds, but there isn't (maybe if we are rich enough to buy a jet…)
I miss you so much!
Share
Is there a special event you have missed? Do you ever feel like one part of your life takes over another? Share your thoughts by leaving a comment.



Check out Creativity Prompt's new and unique self paced workshop: "Welcome Little One". This workshop will provide you with everything you need, and then some, to make a fabulous handmade mini album to record the first moments of a new born baby.