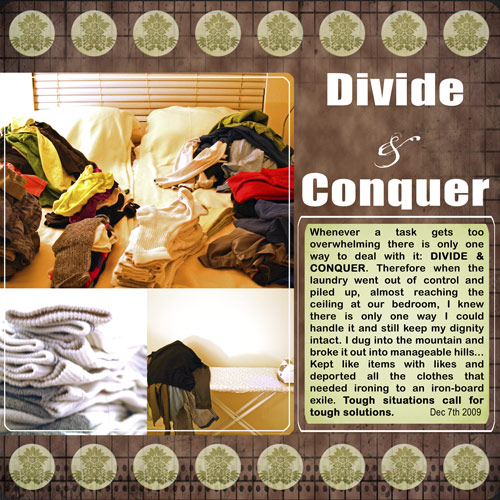 [
Digital products used:
Fonts: Impact, Porcelain, Arial Rounded; Digital Kits: Shimelle Laine's:
Long and winding road
and
Starburst solids
.]
Everyday chores – everyone has them and every person handles them differently.
Some hire help (which is what I used to do while I was working as a lawyer).
Some ignore them altogether until reality knocks on their heads (Been there. Done that).
Some tend to their household chores as a second nature (This is Martha Stewart's group, if you're intrigued…).
Some approach their chores in a declaration of war – I am on that group and I have a very rigid policy on the subject matter: Divide & Conquer!
Share
How do you tackle your daily chores? Leave a comment and share your trusted methods.
Do you have last minute gift giving challenges?

Check out the new "Make Your Own Planner" workshop and you may solve them…
Tags: Digital Kits, Digital Scrapbooking, everyday, Journaling Prompt, Shimelle