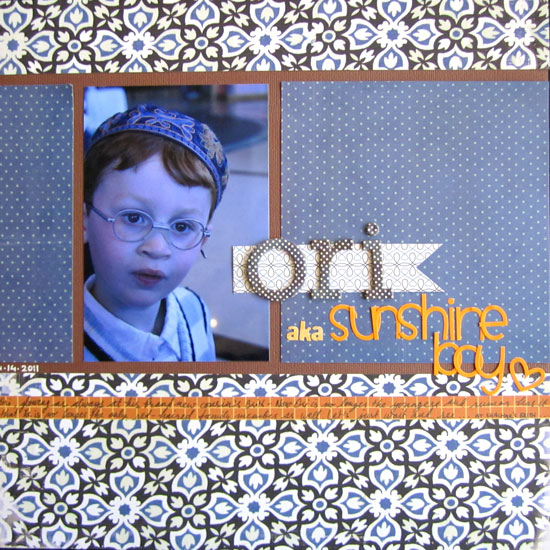 Ori had been my youngest nephew for 5 years, until Shachar was born earlier this year (this april…). In this photo he's at the party celebrating his cousin's birth.
Ori has the most vibrant and glowing red hair in our close family. Well, my father had a pretty vibrant hair color too, but he's getting blond again.
Anyhow, with Shachar's birth, Ori has not only lost his role as the youngest but rumor has it that he will not be the only red-haired anymore.
I guess we will have to wait and see.
At the moment it seems that Shachar is getting as blond as his big brother, Shoham, and is not that red-haired anymore.
He's still very beautiful, of course.
Products Used

Check out Creativity Prompt's new and unique self paced workshop: "Welcome Little One". This workshop will provide you with everything you need, and then some, to make a fabulous handmade mini album to record the first moments of a new born baby.
Tags: creativity prompt, layout, scrapbook, scrapbook layout, scrapbooking