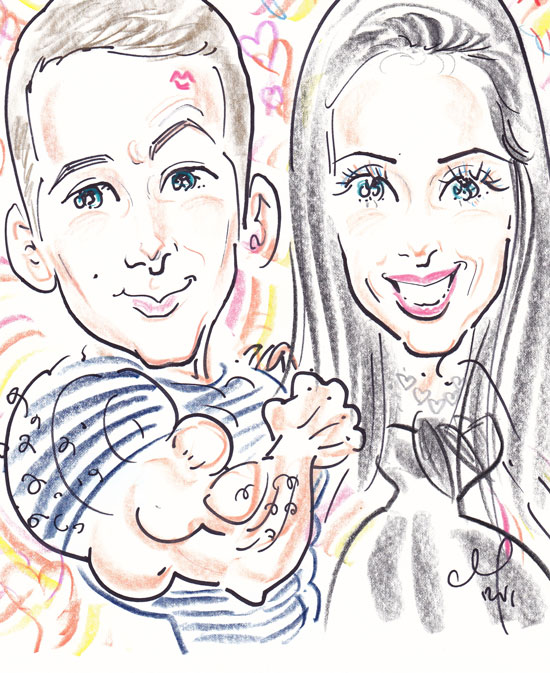 If you are not new to Creativity Prompt you are probably wondering why isn't there anything new? Why haven't I made any new layouts, mini books, cards, etc.
The truth is, I haven't had the inclination to create anything physical, outside the boundaries of my computer, for a long, long time.
I'm not sure what is it that holds me back.
I have a ton of ideas. My brain is basically exploding.
I have so many things that I imagine making and planning all the steps and registering in my mind's eye all the supply I will need in order to make these incredible stuff. But when push comes to shove, I just don't do it.
It hurts me.
But I just don't do.
I uploaded a scan of a caricature of my husband and I that an artist made in a recent holiday party we attended because when I see the sparkle this artist put in my eyes, I feel ashamed.
I feel that I've lost that sparkle.
I cannot pinpoint the reason for my current disinclination.
However I am pretty sure it has something to do with trying (and failing) to find a job as an attorney here, in California.
When I left Israel, first to Ireland and later to California, USA, I had left a great job that I liked and I was very good at. Very, very good.
After a few years of pursuing my artistic passions I longed to go back to practicing law. I missed the intellectual challenge as well as the look on my clients' face when things worked out for them. I decided to study for the infamous California bar exam and lo and behold, I passed.
Academics were never an issue for me, but I looked at it as a signal that I can do well even if it's not in my mother's tongue. My intelligence quotient seems to translate to English (It should, as after all, it is a number).
Sadly, no one seems to give me a chance to prove it.
I feel that from something I became nothing and it saddens me. A. Lot.
I feel disappointed and even frightened that my move had severed my legal career.
Today I stumbled upon an old inspiration prompt I posted a few years ago: "Today Is The Day".
I couldn't have found it on a better time.
Just before the new year and soon after I have realized that I may have lost the sparkle in my eyes.
I am determined to find that fire and pursue it with all my might.
I hope I haven't lost any of you by pouring my heart out…
My freebies will keep on coming!