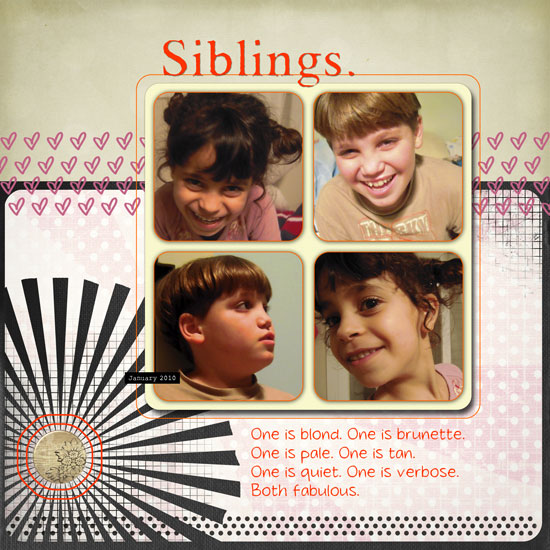 [
Fonts:
Asha, Tidy Hand;
Digital Kits:
Springtime Basics,
Starburst Mini
,
Long and Winding Road
,
Can't buy Me Love
– All by Shimelle Laine at Two Peas In A Bucket.]
Journaling Reads
One is blond. One is brunette.
One is pale. One is tan.
One is quiet. One is verbose.
Both are fabulous.
Sometimes siblings are spitting images of each other.
Either they look alike, behave the same or think similarly – or all the above.
Sometimes the only thing siblings are sharing is their DNA.
Tsuf and Shoham, my niece and nephew are nothing alike.
[Except for both being very good kids]
They look very different and they behave really differently.
Try to make a short list and find what is similar and what is different between siblings in your family.
Share
Are you and your sibling look alike or do you look nothing like your sibling – or are you an only child?
How are your kids? Do they look and behave the same or do they have nothing in common?
Please share your comparisons. It's fun!