My husband, his cat, his sister and two of his cousins.
Products Used
The flowers and frilly border die cuts were cut off of an old Basic Grey collection. (I'm talking about a 5-6 years old one).
Studio Calico Tan Chipboard Alpha Stickers. I must say, this one sheet goes a long way…
Tim Holtz Distressed Stickles in Antique Linen – I used that because I ran out of capital 'S's. I just used the sticker sheet as a stencil, to get the shape right, and filled the outline with the Stickles.
K & Company Smash Date Stamp.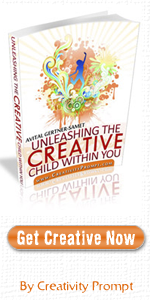 Back when we were kids creativity came naturally to us. Everything was possible and our prolific imagination was the only limit we knew.
Through the years we have grown apart from our inner creative child and along with that – have lost our pristine and utter joy of creation.
In this e-book I will pave your way back to your inner creative child, brick by brick.
"Unleashing The Creative Child Within You" will explain why you became distant from your core creativity and will reveal the secret to getting it back.
With exercises designed specifically to help you find the inner child within you, regain its confidence and unleash it – you are bound to get your mojo back faster than you think.
Your inner creative child wants to come out and play, so don't disappoint it and get "Unleashing The Creative Child Within You".

Tags: creativity prompt, layout, scrapbook, scrapbook layout, scrapbooking