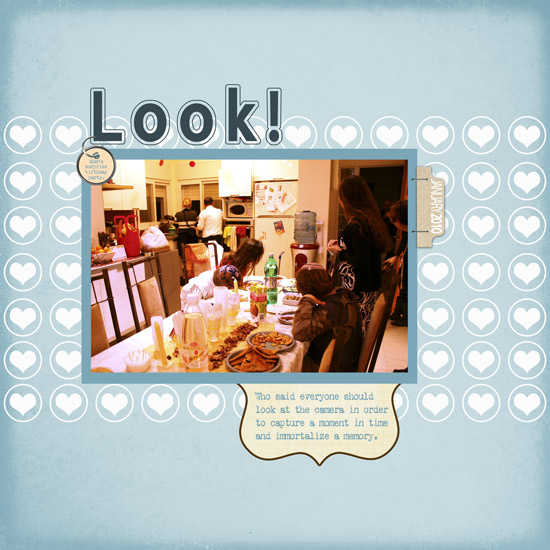 [
Fonts:
Vegur, VTPortableRemington;
Digital Kits:
Can't Buy Me Love
+
Write It Down Aged Lables
– both by Shimelle Laine; Digi Essentials #2,#3 – both by Karla Dudley.]
The journaling in the layout above reads:
Who said everyone should look at the camera in order to capture a moment in time and immortalize a memory.
I stand by these words.
As you might have notice, no one in the picture is looking at the camera, yet I kept this pictures because it captures a true, uneditted, unstaged moment – and I love it! The photo is genuine and authentic and thus precious to me.
Give it a chance. try to capture a true moment in time and choose the best point of view to depict that moment.
Share
Are you always asking people to look at the camera and say 'cheese'? Share your thoughts by leaving a comment on this post.
Side Notes
You might have noticed a slight downsizing on my part. I haven't been updating the blog as often as I used to and that stems from a couple reasons.
First, I have just come back from a two-week vacation back home after more than a year of absence and remoteness. It has been quite an emotional as well as an awakening and changing experience. I just could not take time from my visit and spend it online. I hope you understand.
Second, I have embarked on a challenging journey. It has nothing to do with paper crafts – or any other crafts for that matter. It has everything to do with my peace of mind and personal development. At this early stage, I find it difficult to share (and no. It isn't pregnancy) but I hope I'll gather the courage sooner or later.
For these reasons I have decreased the amount of posts I put up each week, though I will keep on updating and putting up tutorials, journaling prompts and general ideas, as well as share crafty projects with you and in time I hope I will be strong enough to share more about my current challenge in life.
So please bare with me and stay put. You are very welcome to comment and I will join any discussion you start. You may also feel free to contact me and e-mail me in person. I will do my very best to get back to you as soon as possible.
I love you!
…and I need you to stay with me, are you in?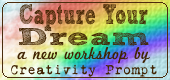 This year you can really make your dream come true!

"Capture Your Dream" workshop is a self-paced, six weeks long workshop, that will walk you through a journey of capturing your biggest dream and making it come true.

In the process of making your dream happen – with lots of inspiration and guided self-exploration, you will also create a mixed media mini album from scratch and learn many tips and techniques – including some photography pointers that will add character to your photos and will help you take better pictures of your projects.

The workshop includes 30 printable PDF lessons with step-by-step pictures and instructions as well as several printable templates you may use in other projects too.

I am confident you will enjoy it and find it helpful so I also offer full money back guarantee while the workshop lasts.
Tags: Digital Kits, Digital Scrapbooking, photography prompt, Shimelle