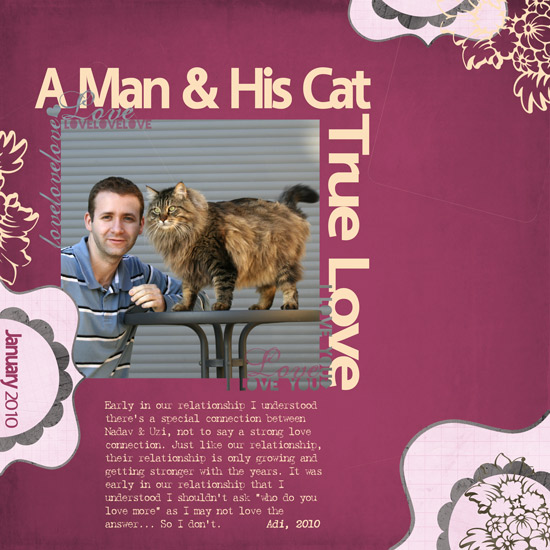 [
Fonts:
Vegur, BatikRegular;
Digital Kits:
Can't Buy Me Love
,
Write It Down Lovely Lables
,
The Long and Winding Road
– All kits are by Shimelle Lane and available at
Two Peas In A Bucket
]
Journaling Prompt
Right before Valentines Day the romantic layouts are spreading rapidly all over the net. We are used to cherish our significant others as well as parental love (I mean anyone who has kids…) and we also document the love between BFFs, etc.
In short, we are documenting the loving relationship we or our loved ones have with other people.
I have a nontraditional idea… what about commemorating the love between us and our pets? They take such a great part of our life and are so dear to us – sometimes closer than some people are to us, so why not writing it down to paper. Why won't we preserve these memories of this special loving relationship.
After all – isn't it true love? The truest? 🙂
Digital Kit Tip
Don't feel obligated to use the items on the kit as is. Just as you would cut a pattern paper, punch it, mist it, sew it, etc, you may also adjust and re-purpose any of the items in a digital kit.
For instance, I was using the labels from the Write It Down Lovely Lables
kit but I wasn't interested in the text on the beautiful labels, so I just rotated them and pushed them out of the layout and used them as embellishments.
Similarly, I was using the gorgeous postcard from The Long and Winding Road
kit by selecting just the embellishment with the Magic Wand Tool on Photoshop Elements, copied it, recolored it and pasted it on several places on the layout just to add a floral finishing touch.
Share
Share your pet love, or a loving relationship with pets (or different kinds of loving relationships) by leaving a comment. I'd love to discuss about any kind of love with you guys.
Check out "Make Your Own Planner" workshop for an affordable monthly and weekly planner in a workshop that keeps on giving…
Tags: Digital Kits, Digital Scrapbooking, Journaling Prompt, love, Shimelle