My Toolbox
Image via Wikipedia
On this page I want to open my basic crafting toolbox and show you all the essential and basic supply and tools that I just cannot do without. You will notice how I keep referring to the same products over and over again on almost all my tutorials.
Basic Supply
Cardstock:
Solid core cardstock – This is the basic type of cardstock I work with. I use both textured and slick cardstock, depending on my project. Usually if I want to use stamps I would go for the slick cardstock. The cradstock is sold in two main sizes: 12″ by 12″ and 8 1/2″ by 11″ (letter size). The letter size cardstock is perfect for card making, home printing and small scaled projects. (My favorite manufacturers are: American Crafts and Bazzil.)

White core cardstock – This type of cardstock is great for distressing techniques, as the white core can be revealed by lightly filing or tearing its surface. (Die Cuts With a View manufactures inexpensive cardstock stacks you can try out.)
Adhesive:
Glue stick. It's the cheapest glue but yet it is very versatile. I use it a lot for attaching fabric and papers to chipboard and cardboard. I am not very particular with the brand of glue stick I am using, however the features of the UHU Color Glue Stick are great. The glue has a purple hue when you apply it to the surface, so you can tell the surface is completely coated, yet it dries clear.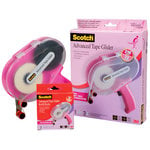 Tape runner. The best tape I have used so far is Scotch ATG which provides a sturdy bond, is easy to use and you don't need to replace the cartridge several time during one project.
Double sided tape. I use this type of adhesive any time I want to make sure the bond is strong and sturdy. I am really impressed with that "magical" red tape. It definitely gets the job done and is sold in a variety of widths, starting from 1/8″ wide which is perfect for tag books and interactive cards.
Glue dots. These are great for attaching buttons and flowers and small chipboard items to your project. Their look may be deceiving, but don't let their size full you. They are very sturdy and everything you attach with them is going to stay attached. The glue dots can be found in various sizes and also in different applicators, for your convenience.
Liquid adhesive – As much as I'd prefer to use dry adhesives only, sometimes only a liquid adhesive can get the work done… Here is a short list of the main brands of liquid glue I always keep in my toolbox:
Tombow Mono Multi adhesive. I use this brand to adhere chipboard to cardstock. When you stick something with this glue, you can rest assured it will stay put.
Judikins Diamond Glaze. Beware, this is an addictive product. It has so many uses. You can coat stamped images and/or patterned paper with it for an epoxy-like finish. You can use it to prevent ribbon from fraying or for securing knots and you can also use it as an adhesive for adhering any bulky item to your project. An excellent dupe is Ranger's Glossy Accents glue. It is truly a wonderful dimensional medium which is also an excellent adhesive. Both brands would serve you right!
Elementary Tools
Self healing cutting mat
Craft knife. Any brand will do. Replace the blades frequently enough and never cut anything with a dull blade.
Ruler. In this case I do have a preference for Tim Holz's Design Ruler. With a prominent grid, a metal strip for cutting and a piercing guide – it has everything you need from your ruler and then some…
Utility scissors
Crop-A-Dile. This is my number one go-for tool. It punches holes with ease through any material or width (provided it can fit in the tool's clutches) and it sets eyelets perfectly and in complete silence. I absolutely love it.

Precision scissors
Bone folder. This is an inexpensive, yet handy, tool. You can use it for scoring and for crisp folding and covering.

stylus. Another handy tool I tend to use over and over again for: scoring, dry-embossing and transferring rub-ons.
Paper trimmer. Technically, the ruler, craft knife and self healing mat are enough for all your cutting. However, a paper trimmer saves you precious time as the measuring and aligning are basically done for you… I also use the paper trimmer for all my scoring.
My Favorite Stores
Scrapbook.com – This online store has a great variety of products. Chances are you will find what you are looking for at that e-store.
Two Peas In A Bucket – This online store has a growing design team (aka: the garden girls) of über-talented artists that can spark your creativity and provide fresh ideas and techniques. In addition, they are having monthly sales, providing up to 90% discount!!!
Disclaimer
When you buy the products by following the links on this website, the merchant shares a small portion of the sale with me. Mind you, this does NOT affect the price you have to pay for the products. However, by following my links and buying the products I trust and recommend, you are showing your appreciation to Creativity Prompt (and getting cool new products for your own crafting toolbox).