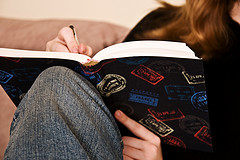 [Photo by:
Kat
]
December means celebrations, holidays and elevated spirits but it also means the year's end. If we plan in advance we are already thinking about next year's resolutions.
Last year I posted a special New Year's Resolutions Series on Creativity Prompt – offering three different ways to come up with your new year's resolutions: the traditional way, the clairvoyant way and the action based way.
This year I am posting another series, concentrating on how to choose the best new year's resolutions.
Step 1
The system includes 4 steps and the first step is to reminisce.
For this step you may go back in time as far as you wish. Either look solely at 2009 or look at the past 5 years, 10 years, 25 years or even look back at your childhood years.
Review your past year or years and take notes. Write down lesson learned, missions accomplished, dreams fulfilled, goals met, etc.
At this stage all you have to do is bring up memories. Don't analyze. Certainly do not criticize. Don't replicate goals. Just write down what you remember – resolution-wise – from years past.
Step 2
Step 3
Step 4
Share
Are you a resolution person? Have you conformed to your past years' resolutions? Share by leaving a comment on this post. I love discussions!
Check out the new "Make Your Own Planner" workshop and get the perfect last minute holiday gift. An affordable workshop that keeps on giving with an unlimited personal use license.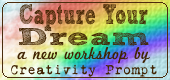 "Capture Your Dream" workshop is relaunching as a self-paced workshop. Isn't this the perfect time for you to capture your dream and make it happen?
Tags: Journaling Prompt, New Year, resolutions, series