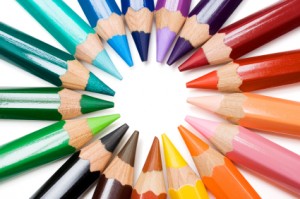 Getting started is many times the biggest obstacle. The first step is awkward. Staring at a blank page, overwhelmed by the scope or the complexity of the task can lead you to procrastination or to just give up. However, after you have taken the first step, the next ones are going to be natural and easy.
So how can you jump start your your creative process?
Back when I was working as a lawyer, I used to start with the outline. Starting with a familiar structure had made the first step a breeze and also helped me focus on the unique elements of the case I was working on. In the process of making a scrapbook page or any other crafty project, an easy way to get through that dreaded first step is using a template. Either use a template you have used and loved before or a template from a magazine or a book. The template can refer to either the layout or to the color palette of the project.
This week's creativity prompt is focusing on using a color palette to jump start your work. After choosing the color palette you are already half way through and all you have left is picking up the corresponding supplies (which is FUN) and get creative. Unfortunately, choosing the "right" colors may take precious time away from your actual making time.
There are many shortcuts in coming up with a color palette. One way is by leafing through design magazines and picking up color combination that appeal to you or talk to you in some way. Another fun way of choosing colors for your projects is by using the color wheel, which is what this week's creativity prompt is all about.
All you have to do is to find your favorite color (in my case it changes from time to time and is currently orange) on the color wheel and then pick up its analogous and complementary colors (the colors which are right next to it and the color opposite to it), and voilà – you've got your palette.
In the example below my anchor color is a darker shade of my favorite color (orange) and by following the above process I came up with the color palette and chose the supply accordingly.
This was my palette: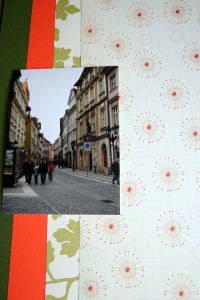 This is the layout I came up with: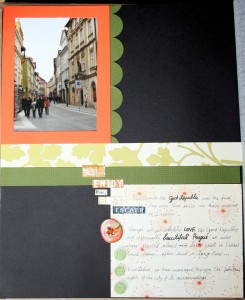 Supply: Bazzil cardstock. Scenic Route patterned paper. Making Memories wordfetti. Love Elsie chipboard buttons. American Crafts Pigment Pro pen.
This is another layout I have made with the same palette. I have also used scraps from the first layout, thus killing two flies with one flick 🙂 :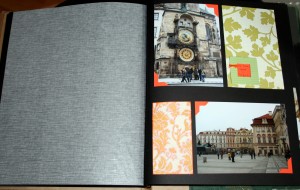 Supply: Bazzil cardstock. Scenic Route and Basic Grey Patterned papers. Colorbox ink. Thread.
For some more color inspiration check out these links:
For a perpetual flow of color palettes, check here.
So go ahead and make that first step by using the color wheel to choose a palette and share your creations with me by leaving a comment below.
Tags: creativity prompt