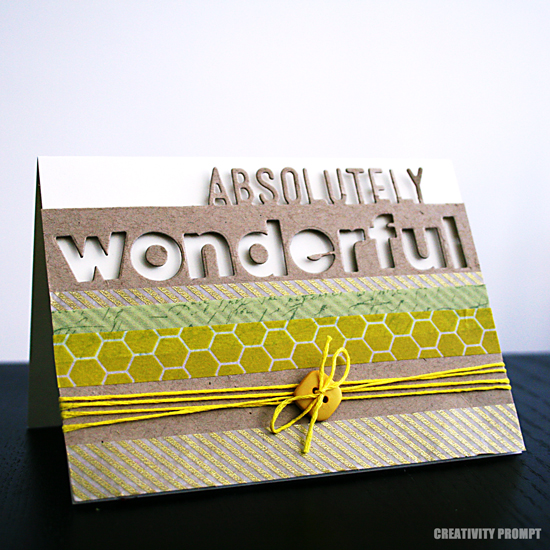 I am taking another class from Jennifer McGuire and Kristina Werner. This time I'm taking 'Kick Start', which is all about boosting your creativity.
I don't want to reveal any inside secrets… but Jennifer shares a tip (which involves a post it note and new products) that helps to come up with creative ideas to use new products. This post-it secret also helps in pruning your shopping cart, while shopping…
Anyhow, I used it with my new Absolutely die-cut (designed by Kristina Werner for Simon Says Stamp) and came up with the idea to use two die cuts on one panel so I can have both a negative and a positive impression of a word. The different shadows the words cast are really interesting.
I lined up both dies on my cardstock panel and ran it through my Cuttlebug. I prevented movement by temporarily sticking the dies to the cardstock with removable tape.
Side note: I looked for a word with no repeating letters to go with 'absolutely' and 'wonderful' won… – It isn't necessary as I could use place holders for repeating letters and run them through the Cuttlebug a couple times.
To spruce the card up a little bit I used some washi tape stripes, an embroidery floss and a button.
SUPER simple, but I really love the clean and simple result.
How about you, what do you think?
Supply
I added a few other alphabet dies at the end, to give you some more options 🙂
I used the one by Papertrey Ink that I bought a while back.