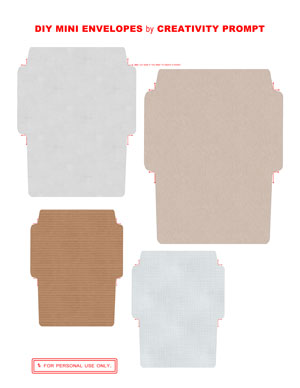 Today I am sharing a set of FREE DIY mini envelopes with you guys (for personal use only).
Following the warm response the DIY dimensional mini envelopes has received I decided to create another set, this time with flat envelopes. Extra bonus: trim off the top flap to create a pocket instead [make it even cuter, by punching a quarter circle off the center of the bottom flap].
To download it simply click on the image and if it doesn't work try to right-click on it and opt for the "save target as…" option (it may be phrased a bit differently on different operating systems – but do NOT opt for the "save image as" option, as you will get the low resolution tiny preview image).
All you need to do is: print, score, cut, fold & adhere.
Make sure you didn't miss the rest of the free printables on Creativity Prompt.
If you like it –
Share
How are you going to use these envelopes/pockets? Please leave a comment and share.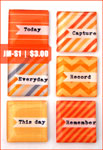 Spice up your everyday memories with handmade epoxy stickers.
Just $3.00 per package.
6 stickers in each package.
Each sticker measures approximately ¾â€ by ¾â€.

Tags: freebie, Journaling spots, mini envelopes, printable