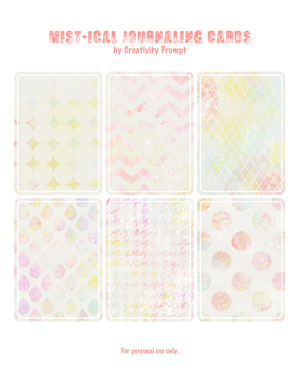 Today I am sharing a set of FREE 'mist-ical' journaling cards with you guys (for personal use only).
I was inspired to make these journaling cards after watching this video tutorial by Jessica Sprague. In this video Jessica teaches how to use Nisa Fiin's Splendid Fiins digital stencils, called 'Knock-Outs'.
For this set of printable journaling cards I used patterns that I created myself. As I got inspired by Jessica's video, I will not post a tutorial on how to make a digital stencil. I don't think it would be fair.
If you feel inspired by this technique then, by all means, grab some of Nisa's stencils and play with them. Her stencils are very affordable and their pattern are much cooler than my "primitive" ones.
Plus Jessica offers free samples to play with and real 'mist' brushes – not the make shift ones I used from Photoshop's presets.
To download it simply click on the image (or the link) and if it doesn't work try to right-click on it and opt for the "save target as…" option (it may be phrased a bit differently on different operating systems – but do NOT opt for the "save image as" option, as you will get the low resolution tiny preview image).
I hope you like it and have lots and lots and lots of fun with it.
Make sure you didn't miss the rest of the free printables on Creativity Prompt.
If you liked it –
Share
How are you going to use these journaling cards? Please leave a comment and share.
Tags: freebie, Journaling Cards, journaling labels, Journaling spots, journaling tags, printable