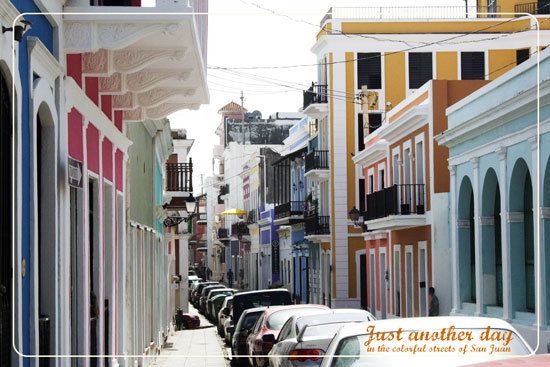 [
fonts:
Special Type and Marcelle Script]
My husband and I just came back from a 5-day excursion in Puerto Rico.
This vacation was far more needed than planned.
We were both tired and unmotivated and decided to blatantly ignore our busy schedules and never-ending to do list and just order the tickets and go.
"We will deal with the consequences once we are back, refreshed and filled with good energy", was our mantra.
The trip was AMAZING. We fell in love with the colorful streets of San Juan, the friendly Puerto Ricans and the refreshing food and drinks.
We stayed at a beautiful resort in Fajardo, called: El Conquistador and got a beautiful room with an ocean view (Though we hardly stayed there – we mostly hiked and went sight seeing around the beautiful island).
Now I am back. Tackling my to do list with a shorter deadline but a much broader smile.
So far I have only managed to upload the photos we took on our first day in Puerto Rico. Feel free to take a peek.
Share
Have you ever gone on an unplanned vacation? [would like to think we're not the only ones…]

Tags: Personal Notes, Puerto Rico, San Juan, vacation