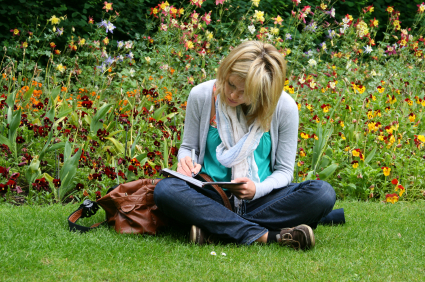 Every bit of journaling that comes from the heart is a good journaling. Saying that, many times we have such a precious memory to keep or a thought to treasure that we feel stumped. We don't seem to find the right words to write. We just feel like our journaling muscle is a bit rusty and ragged.
My initial advice is to just write. You can either write everything down on a scratch piece of paper and edit select the highlights later –or– to go ahead and just write (which is what I usually do).
However, if you insist on honing your writing skills then I have the perfect exercise for you – it will stretch your journaling muscle and will make you sweat words and sentences like there's no tomorrow.
For this week's journaling prompt we are going to exercise our journaling muscles by putting our words through a mood swing.
Start by writing down a single paragraph. Write about your day. Write about a recent vacation you've had or about the fact you haven't been out on vacation for a lo-o-o-ong time. Write anything (even a one-paragraph-short-story).
Now write this paragraph down, again-and-again, each time with a different dominant tone:
Dramatic.
Romantic.
Humorous.
Journalistic (newsworthy…)
Sarcastic.
Sad. (Think obituary)
Happy.
Mad.
Hopefull. Zen induced…
Childlike. (riming?)
Have fun at the word's gym 🙂
Share
Do you struggle with your journaling sometimes? Did you find this exercise helpful? Share your thoughts and share your work by leaving a comment on this post.
These prompts might be helpful as well:
If you liked this post subscribe to my feed:
Tags: creative writing, guided writing, journaling, Journaling Prompt