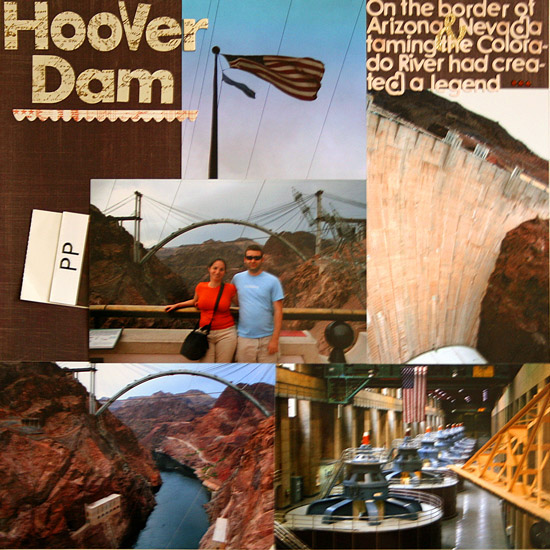 I am now working on my Las Vegas trip album. We went there last year and travelled around a little bit.
We were truly inspired by the story behind the Hoover Dam and I wanted to highlight the story in my album.
That's why I decided to write down the story using letter stickers. It really emphasizes the story portion of the layout.
The micro mono stickers by Basic Grey are PERFECT for the job. They are small enough to stay in proportion and there are multiple stickers of each letter – both lowercase and capital letters. You really get a ton of stickers per sheet – and in the rare case you run out of a letter (like I ran out of 'd's) it is really simple to cut around the letter and use its outline instead, which also add a nice graphic element to the journaling.
Give it a try!
Side Note
Check out how I tucked in the ticket to the power plant tour underneath the picture on the left side of the layout. I do that a lot to keep souvenirs from my trip. All I do is apply the adhesive just to 3 edges of the photo, so it creates a pocket. If the ticket is on the smaller side, I add a strip of adhesive in the middle, to keep the ephemera from getting buried inside the photo pocket.
Supply
Background paper: Cloud 9 Design by Colorbok
Letter stickers:


Check out Creativity Prompt's new and unique self paced workshop: "Make Your Own Planner".
This workshop will show you how to make a beautiful handmade planner for the year 2012. Not only are you going to get the entire meticulously designed planner kit for instant download, but you will also get a high resolution video tutorial as well as step-by-step instructions to guide you on each step of the way. Either treat yourself with a fresh and creative start for the coming new year, or get it to create wonderful gifts for your family and friends.
Join now