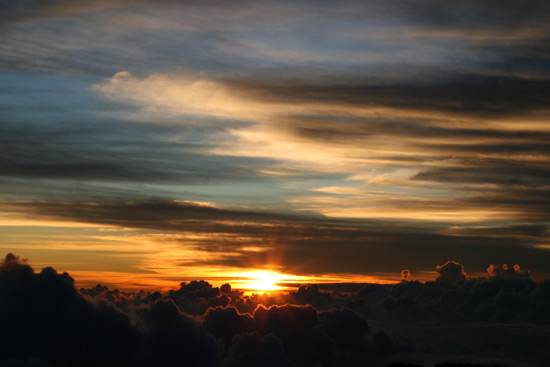 My Impression. My Sunrise
There must be but a couple things more beautiful than a sunrise, but I haven't seen them yet.
The anticipation in the pre-morning frost is immense.
The teeth are shaking and the entire body shivers with both cold and excitement.
All of a sudden rays of strong red light come out of the thick clouds,
Making them visible in the dark cold black sky.
Already the ridge lights up welcoming the rising sun.
A few more moments elapses and the red rays are accompanied by an orange mist of color.
Almost obscure at first but soon the orange dominates the brave, pioneering red lights.
Then the sky change color to a magnificent cobalt blue.
After some more chilling moments tick past, the vibrant yellow rays are emerging,
followed by a fabulous ball of pure shining gold.
The sun is coming up and sky once again change color to a perfect azure hue.
And without further ado,
let there be light!
What an inspiration are those young first rays of sun that singlehandedly take over darkness.
It only takes one ray to light up half a globe.
Journaling Prompt
I strongly encourage you to brave the cold and the loss of sleep and go watch a sunrise, then write it up:
How did it look like?
What colors did you spot?
What did you feel?
Where did you watch the sunrise?
With whom did you watch the sunrise?
Have you learned anything from your experience?
How has the sunrise inspired you?
What did you like most about the sunrise?
What do you think was the most beautiful moment?
Share
Have you ever watched the sunrise?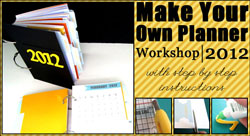 Check out Creativity Prompt's new and unique self paced workshop: "Make Your Own Planner".
This workshop will show you how to make a beautiful handmade planner for the year 2012. Not only are you going to get the entire meticulously designed planner kit for instant download, but you will also get a high resolution video tutorial as well as step-by-step instructions to guide you on each step of the way. Either treat yourself with a fresh and creative start for the coming new year, or get it to create wonderful gifts for your family and friends.
Join now
Tags: Journaling Prompt, sunrise