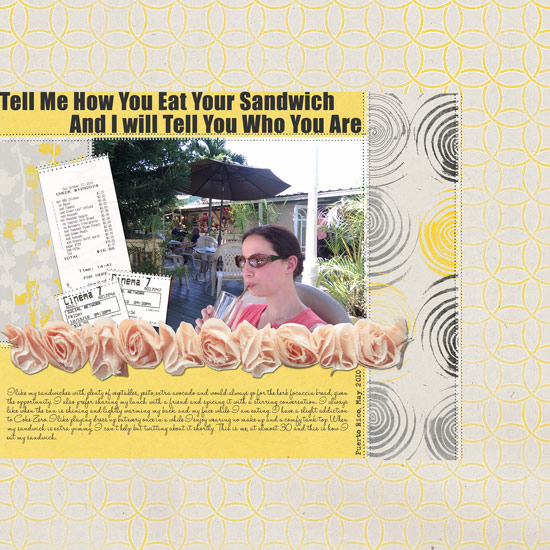 [
Fonts:
Impact, Adler, Halo Handletter;
Digital Kits:
Friends and Digi Essentials by
Karla Dudley
and The Apple Of My Eye by
Vinnie Pearce for Two Peas In A Bucket
.]
That's it folks, tomorrow I'm turning 30.
What am I like? you want to know…
Well, I'll tell you how I eat my sandwich:
(click on the photo for a larger view)
[Journaling reads]
I like my sandwiches with plenty of vegetables, pesto, extra avocado and would always go for the herb focaccia bread, given the opportunity. I also prefer sharing my lunch with a friend and spicing it with a stirring conversation. I always like when the sun is shining and lightly warming my back and my face while I am eating. I have a slight addiction to Coke Zero. I like playing dress up but every once in a while I enjoy wearing no make up and a comfy tank top. When my sandwich is extra yummy, I can't help but twitting about it shortly. This is me, at almost 30 and this is how I eat my sandwich.
Share
How do you eat your sandwich? Please share by leaving a comment here.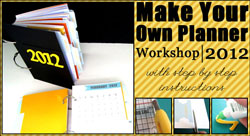 Check out Creativity Prompt's new and unique self paced workshop: "Make Your Own Planner".
This workshop will show you how to make a beautiful handmade planner for the year 2012. Not only are you going to get the entire meticulously designed planner kit for instant download, but you will also get a high resolution video tutorial as well as step-by-step instructions to guide you on each step of the way. Either treat yourself with a fresh and creative start for the coming new year, or get it to create wonderful gifts for your family and friends.
Join now