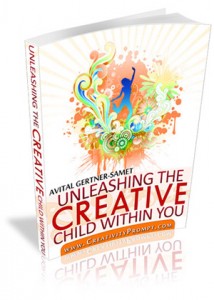 I am delighted to announce the release of my first e-book: Unleashing The Creative Child Within You. This e-book is a result of my own journey to find and reconnect with my inner creative child. I invite you to join me on this journey so you too will be able to spark your inner creative child.
September the 1st is the perfect timing for starting a new learning expedition. Nothing provides such a refreshing boost like learning something new. It helps to open your mind to new methods and get inspired by the new possibilities – limited only by your own power of thought.
Without further ado I invite you to embark on a journey which will take you back to a state of creativity abundance, the same state you had had as a child.
Discover what have happened to your creative self.
Find out what inhibiting forces are intimidating your inner creative child.
Learn how to overtake these forces and spark your own creativity.
Read about the special traits that will help your creative self flourish.
Unleash your inner creative child by following ten simple exercises and enjoy your overflowing creativity.
Please feel free to read more about my new e-book. I am sure you will benefit from my e-book and it will help your creativity soar in ways you had never imagined were possible anymore.
For a chance to win a free copy of my e-book, leave a comment to this post with some feedback on my blog. You may comment until September 13th 20:00 (GMT) and the happy winner will be announced on September 14th.
Have a great weekend!!!