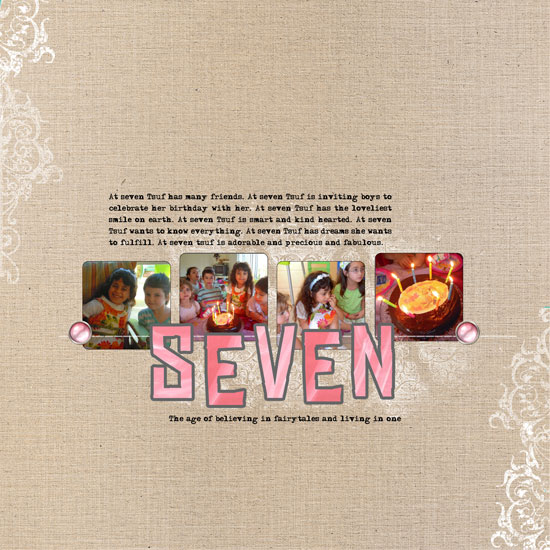 [
Fonts:
Adler;
Digital Kits:
Count To Four (alpha and template) by
Shimelle Laine
,
Color My World
by Rhonna Farrer, KD Capture and Record by
Karla Dudley
.]
Shimelle has released a gorgeous new digital kit which includes a template, on which the layout is based on, and a set of pink alphas. So cute.
A template is just perfect when you have absolutely no time and you want to make a winning page. Just clip your photos in place, resize, perhaps recolor. Add your journaling, title and a couple elements to add a bit of yourself and voilà .
I really love this template because it looks like a layout I would have designed myself. The rectangles, the typewriter font, the accents. I love it. (I admit, if it was my layout it would probably align in a straight line – but that's the beauty of working with templates. I try something new and fall in love with it).
Can you believe my niece is seven already??? She's growing fast!
Share
Have you used a template or made a layout based on a sketch before? Please share by leaving a comment.

Tags: Digital Kits, Digital Scrapbooking, DT, family, Shimelle