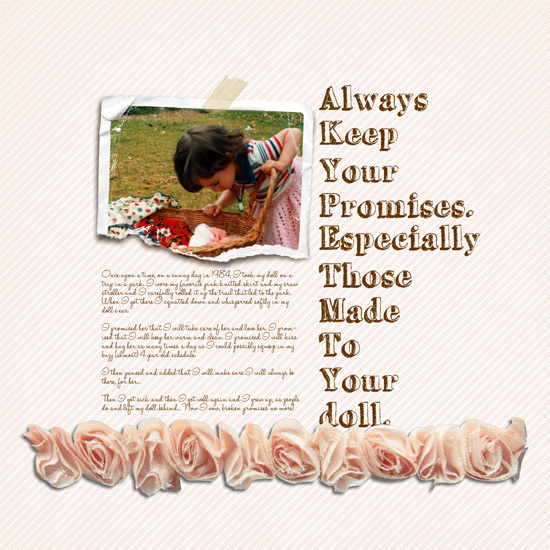 [
Fonts:
Grutch Shaded and Halo Handletter;
Digital Kits:
Torn Bits 4
by Creashens for Cat Scraps, Fly Girl and Digi Essentials 2 by
Karla Dudley
as well as
The Apple Of My Eye
by Vinnie Pearce for Two Peas In A Bucket.]
I guess my birthday has put me in a reflective mood… Memories keep flooding me. Remote as well as recent ones are making me think and think and think some more about then and now.
Journaling reads:
Once upon a time, on a sunny day in 1984, I took my doll on a trip in a park. I wore my favorite pink knitted skirt and my sraw stroller and I carefully rolled it up the trail that led to the park. When I got there I squatted down and whisperred softly in my doll's ear.

I promised her that I will take care of her and love her. I promised that I will keep her warm and clean. I promised I will kiss and hug her as many times a day as I could possibly squeeze in my buzy (almost) 4 year old schedule.

I then paused and added that I will make sure I will always be there, for her…

Then I got sick and then I got well again and I grew up, as people do and left my doll behind… Now I vow, broken promises no more!
Share
Do you remember a promise you made as a child? I encourage you to write about it and I would love it if your shared your memories with me by leaving a comment 🙂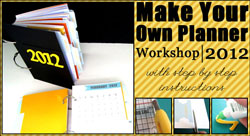 Check out Creativity Prompt's new and unique self paced workshop: "Make Your Own Planner".
This workshop will show you how to make a beautiful handmade planner for the year 2012. Not only are you going to get the entire meticulously designed planner kit for instant download, but you will also get a high resolution video tutorial as well as step-by-step instructions to guide you on each step of the way. Either treat yourself with a fresh and creative start for the coming new year, or get it to create wonderful gifts for your family and friends.
Join now
Tags: Journaling Prompt, Self