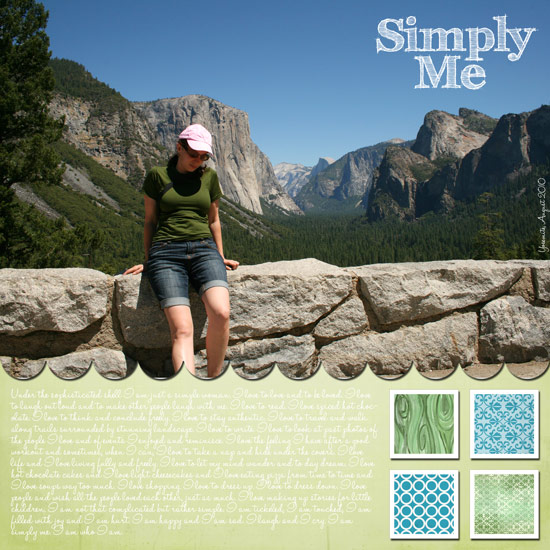 [Fonts: FFF Tusj and Halo Handletter; Digital Kits: Long and Winding Road and Bazinga by Shimelle Laine for Two Peas In A Bucket.]
Journaling reads:
Under the sophisticated shell I am just a simple woman. I love to love and to be loved. I love to laugh out loud and to make other people laugh with me. I love to read. I love spiced hot chocolate. I love to think and conclude freely. I love to stay authentic. I love to travel and walk along trails surrounded by stunning landscape. I love to write. I love to look at past photos of the people I love and of events I enjoyed and reminisce. I love the feeling I have after a good workout and sometimes, when I can, I love to take a nap and hide under the covers. I love life and I love living fully and freely. I love to let my mind wander and to day dream. I love hot chocolate cakes and I love light cheesecakes and I love eating pizza from time to time and I love soups way too much. I love shopping. I love to dress up. I love to dress down. I love people and wish all the people loved each other, just as much. I love making up stories for little children. I am not that complicated but rather simple. I am tickeled, I am touched, I am filled with joy and I am hurt. I am happy and I am sad. I laugh and I cry. I am simply me. I am who I am.
Share
When was the last time you wrote about yourselves? Who are you? Please share and leave a comment here. I'd love to know you all better.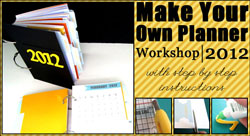 Check out Creativity Prompt's new and unique self paced workshop: "Make Your Own Planner".
This workshop will show you how to make a beautiful handmade planner for the year 2012. Not only are you going to get the entire meticulously designed planner kit for instant download, but you will also get a high resolution video tutorial as well as step-by-step instructions to guide you on each step of the way. Either treat yourself with a fresh and creative start for the coming new year, or get it to create wonderful gifts for your family and friends.
Join now
Tags: Journaling Prompt, Self