this is a super random and very quick post…
A couple readers shared a link to their take on the micro journaling concept and I love, love, love them both.
The first is by the super talented Alexandra who made a layout documenting a certain moment in time. She actually posted it over a month ago and I cannot believe that I missed such a gorgeous post on my RSS reader. This post (and the blog itself) is a collaboration of a few super-super-super talented scrapbookers and is really delightful.
The second reader who shared her interpretation of the concept is Cate who made beautiful Christmas little diaries, take a look, it's totally rad plus she includes a cute free download.
Last but certainly not least, I wanted to share a link to a handy dandy compilation of links to everything you have ever wished to know about book binding. My reader, Anette Berlin shared that treasury with me and I am very glad she did 🙂
Share
Is there anything fabulous you would like to share with me and my readers? Please, do leave a link to an inspiring crafty project or share a rad idea!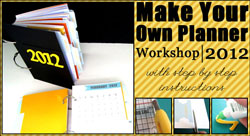 Check out Creativity Prompt's new and unique self paced workshop: "Make Your Own Planner".
This workshop will show you how to make a beautiful handmade planner for the year 2012. Not only are you going to get the entire meticulously designed planner kit for instant download, but you will also get a high resolution video tutorial as well as step-by-step instructions to guide you on each step of the way. Either treat yourself with a fresh and creative start for the coming new year, or get it to create wonderful gifts for your family and friends.
Join now