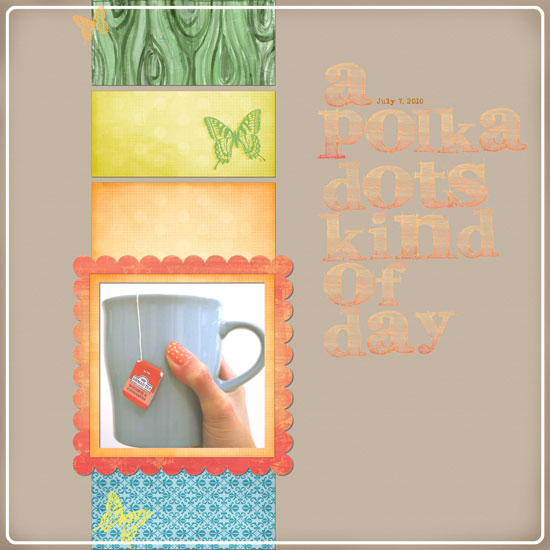 [Fonts: Adler; Digital Kits:Bazinga Mini Kit by Shimelle Laine for Two Peas In a Bucket.]
I am an advocate of the story behind the photos.
Saying that, I also think that sometimes the story can be depicted with just a few words.
Sometimes the title alone will suffice to convey the moment.
This layout is a terrific example. The title is certainly enough (in conjunction with the date and the photo) to bring back the memories from that long day that at the end of it I decided to paint bright yellow polka dots on my nails… Oh, what a day it was.
Share
What memory can you capture with a single title? I would love to hear your thoughts, so please leave a comment and share with me.

Check out Creativity Prompt's new and unique self paced workshop: "Welcome Little One". This workshop will provide you with everything you need, and then some, to make a fabulous handmade mini album to record the first moments of a new born baby.
Tags: Digital Kits, Digital Scrapbooking, DT, layout, Shimelle