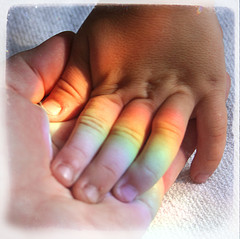 [Photo by:
Gordana Adamovic-Mladenovic
]
I have not lived long enough to become old and wise but I have noticed that whenever I truly believe in something, and do whatever I can to capture my dream, it comes true.
Sometimes it happens right away. Most times it takes a while to get there. But if you keep believing, there comes a time that IT happens and everything falls right into place.
When you lose hope you usually extinguish the ember, but as long as you believe you are keeping it burning until the fire is up.
It takes patience, belief, hard work and persistence. I didn't say it just miraculously happens…
However, it does happen if you give it a chance.
I have stumbled upon this quote by Gerald G. Jampolsky, MD:
As a child I was told and believed that there was a treasure buried beneath every rainbow.
I believed it so much that I have been unsuccessfully chasing rainbows most of my life.
I wonder why no one ever told me that the rainbow and the treasure were both within me.
I love it!
Chasing rainbows is the underlying idea behind believing in your dreams and knowing that it is already within you to succeed, is the rudimentary understanding that will get you to the treasure.
Share
Are you a believer? Share your thoughts by leaving a comment. I always love to read your comments and replay almost each and every one!
Check out the new "Make Your Own Planner" workshop and you may solve this year's holiday gift shopping problem. An affordable workshop that keeps on giving…