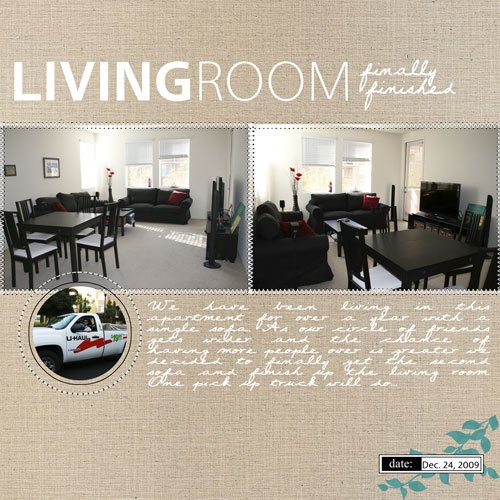 [Fonts: Vegur, Popsies; Digital Kits: Karla Dudley's Capture + Record, Digi Essentials & Blakely]
I have been very fortunate in the last couple of weeks to meet a group of fantastic people to hang out and have loads of fun with.
One of the most difficult aspects of a relocation is starting afresh socially. You are displaced from the close group of friends you've been nurturing since childhood and get into a place where a tight circle of friends had already been formed. Pair with it natural shyness and a funny accent and suddenly your "play dates" are getting sparse.
Little by little we are widening our circle of friends here and our social calendar is getting full again. To "celebrate" the occasion we've decided to narrow down another circle – our apartment's interior design.
When we got here we had to buy all the furniture at once and lost a lot of money by converting Euros to US Dollars. So we decided to lightly furnish the apartment with all the necessities and add on furnitures as the need arises…
Therefore on December 24th we rented a pick up truck, drove to IKEA in Palo-Alto and purchased the second sofa and some decorations. Thus, with a slight backache, our living room is finally finished 🙂
Share
Have you narrowed down a circle in life as another one widened? Leave a comment and engage in the discussion.