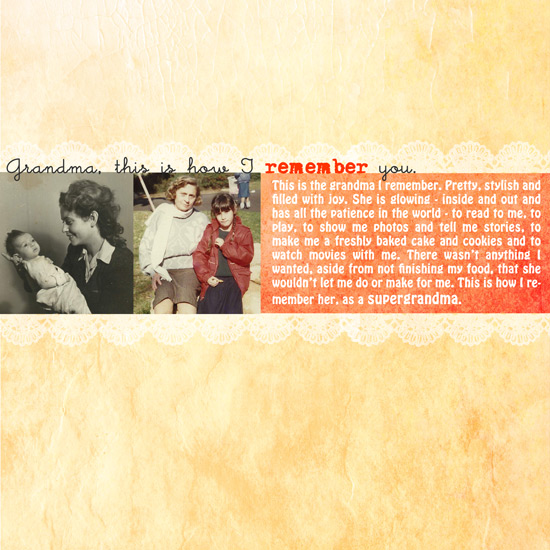 [Fonts: Little Days, Hobo and Adler.]
In the left photo you can see my grandma holding her first born, my mother (circa 1948) and on the right you can see me and grandma at the park near her home (circa 1988). 40 years apart – still beautiful.
Let me tell you some more about my grandmother.
She was born in Poland to an affluent family of merchants and Jewish scholars.
Her family was ultra-orthodox, Chassidic. Her parents had 10 children in total.
When she was a young adult she started questioning her parents' Chassidic ways and had secretly joined a more secular Zionist group.
She was very careful not to hurt her father's feelings and would leave home wearing long sleeved shirts and long skirts and then change into more modern apparel and meet with her Zionist friends.
Not long afterward she fell in love with a beautiful young student who shared her modern viewpoint and after awhile they got engaged.
Sadly, her beloved fiance was caught "in the line of fire" in an outburst against the Jews in the community and was hanged then and there in the center of the neighborhood.
She was heartbroken but determined to keep on living.
Just a couple years later, WW2 started and Hitler occupied Poland.
My grandma remembered the day the Nazis came to her neighborhood and started lining up all the jews. She and her family members ran out into the chilling evening and into the woods.
My grandma had blond hair and blue eyes and was well educated [thus fluent in Polish and Russian] so she could pass for a non-jew, which was what had saved her life and prevented her from the destiny of most of her other family members [very unsettling but true].
She was hidden for about a year, working as a potato peeler in a remote peasants' inn until someone found out she is Jewish and asked for things she refused to give in return for his silence…
She took off immediately and ran towards the Russian border, where she was caught as an enemy of the country [being Polish…] and sent to a hard labor camp in Siberia.
In Siberia she had to stand all day with light clothes and thin soled shoes and cut trees, in the burning cold (up to minus 40 degrees in the wintertime). She received a portion of 1 coarse loaf of stale bread and 1 cup of water a day and watched hundreds of people give up and die – every single day. But my grandmother endured until the war was over.
Then she came back to Germany and got reunited with her brother. Only 2 brothers had survived the Holocaust (and 1 sister who had left for Israel before the war started and survived as well).
In Germany she met my grandfather who had lost his family as well. They fell in love and got married and had my mother while they were still living in Berlin.
Thereafter my grandparents left Berlin and came to Israel where they started their own restaurant in downtown Haifa and they had both lived in Haifa until their last day.
My grandma was a hard working woman and a survivor. She had strong determination to work as long as she could.
My grandma also had the type of charisma that drew people towards her wherever she went and whatever she did.
She was a generous person who always loved to host as many guests as possible and prepare noteworthy dinners for everyone.
She had led a long, laborious but fulfilling life – a real inspiration to everyone.