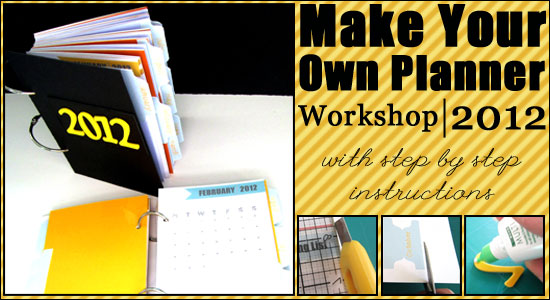 I am excited to announce my latest self-paced workshop. In this workshop you will make your own planner for 2012.
The workshop will provide you a video tutorial as well as written step-by-step instructions to complete a beautiful planner – all at the comfort of your own home. You will also get a full pre-designed planner kit, in both JPG and PDF files for instant download. I will walk you through the process of putting the planner together, as if I am standing right next to you.
The planner's pages are cute and whimsical with a pop of color – to brighten up your days. Each page measures 4″ by 6″ so you could easily tuck in photos throughout the year. The page templates include:
Monthly and weekly planner pages.
Shopping list – this list will take in anything from groceries to scrapbook supply through the latest fashion and beauty must haves.
To do list – for extra gratification, the entire task is bound in a circle to check off when it is done.
A page for reflection – to use as a journal or to jot down things you wish to remember.
A page designed especially for sketching creative ideas you come up with throughout the day – you will have both white spaces as well as graph paper and dots to cater to all your design needs.
In addition, this year the workshop includes both the front and back design of each of the reoccurring spreads, to accommodate double-sided printing! This will help you save money on cardstock as well as make your planner more environmentally friendly. In fact, if you do all the printing at home, out of pre-cut 4″ by 6″ cardstock – you will have no paper waste at all!

For only $12 and the cost of the simple supplies you will get a beautiful, meticulously designed planner. Not only that, but you may also use the kit to create planners for your friends, family and colleagues – a great handmade and affordable present for the coming holidays. You may also alter the JPG files, change their color, add or subtract elements and personalize it with a photo editing program, such as Photoshop or Photoshop Elements.
What Else Will You Get?
The workshop guide also provides tips and suggestions on how to harness your creativity to customize the planner and make it uniquely yours. Coupled with a high resolution video tutorial you will also find clear and concise written step-by-step instructions, paired with large colorful pictures of each and every step – leaving all the guesswork out of the equation.
But wait, don't stop there, with the extra pre-designed pages you will get, you will also be able to make your own sketch book, diary or list booklet. Just print extra copies of these pages and bind together to create a whole different product, uniquely yours.
Immediately after registering to the workshop, you will gain access to the entire kit for instant download. Note: all the tools and supplies are pretty basic and can be found at your local craft and office supply store.
As always I offer each member full support and encouragement.
P.S.: You are going to love this planner… OR your money back!
I am so confident you will absolutely love the planner you'll make, that I am offering a full money back guarantee. If you are not fully satisfied with the workshop, just send me an e-mail and I will refund 100% of your purchase – no questions asked.
Sample Pages
The Details
Price: only USD 12.00.
Duration: Self paced.
Instant access to all the workshop's material.
Contents:

21 JPG files
16 PDF printable documents
1 workshop guide in PDF file format
Video tutorial in high definition resolution