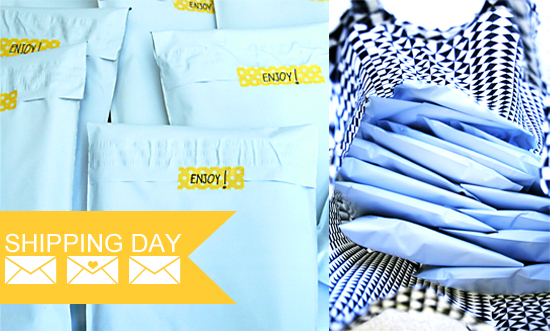 Today at Creativity Prompt's headquarters…, aka: home, we've been very busy giving personal attention to each package of Everyday Hexagons goodness.
I've been filling up my reusable bags with white envelopes and washi rays of sunshine.
I am also happy to report that all stamp orders received by today have been shipped.
We also have a winner in my Everyday Hexagons giveaway! Yay!

The winner has been notified and her stamps are already on their way. They won't travel too far… 🙂
The giveaway has been SO MUCH FUN! I wish I could give a set to each and every one of you.
You left such sweet words behind and some of you are facing some hard times – I wish I could sweeten your day.
My next giveaway is going to be a more active one involving my Everyday Hexagons stamps. So many of you have already purchased a set and there are very few left in stock, so I will make the next giveaway run a bit longer than usual to allow anyone who wants to participate to get a stamp set. I want to see your stamps creations!!! More details will follow SOON.
As I mentioned before there are only very few stamp sets left in stock, and the rest of you guys will have to pre-order [delivery estimate: late October-early November]. If you are going to be one of the first few buyers, your stamps will be delivered within a few days. I would advise you to pre-order, rather than wait, so you can guarantee having a stamp set for the up-and-coming contest (and for holiday card making + scrapbooking).
You snooze – you lose 🙂