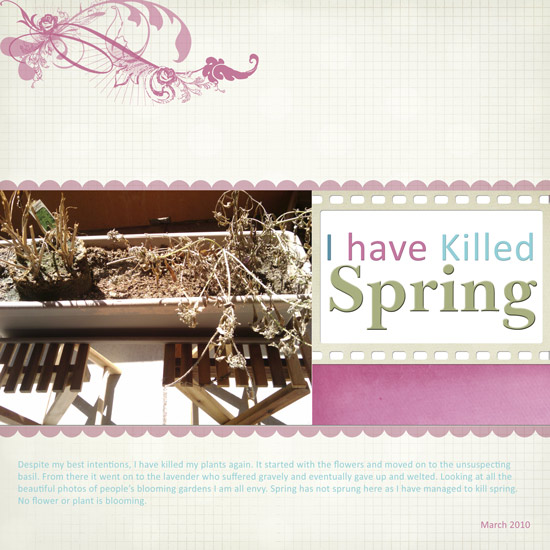 [
Fonts:
Bagad, Calibri;
Digital Kits:
Write It Down Negative Strips & Spring Time Basics by Shimelle Laine, Rhonna Botanical Swirls (brushes) by House of 3]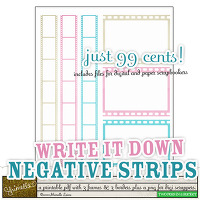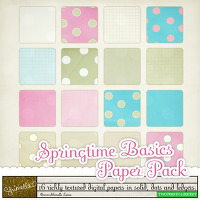 In celebration of spring and the seasonable new release of Shimelle's digital kits on Two Peas In A Bucket, the Baker's Dozen have arranged a blog hop for you to admire the fabulous new kits and the work of the talented girls I am very happy to work with…
Spring is here, the weather is LOVELY, the flowers are in full bloom – but not at my place. I am ashamed to admit that I have killed spring at home.
How is it possible? I have no idea. But no plant had lived long enough to tell the story…
My journaling reads:
Despite my best intentions, I have killed my plants again. It started with the flowers and moved on to the unsuspecting basil. From there it went on to the lavender who suffered gravely and eventually gave up and welted. Looking at all the beautiful photos of people's blooming gardens I am all envy. Spring has not sprung here as I have managed to kill spring. No flower or plant is blooming.
After you've seen spring's antithesis in my layout, go on to Karen's amazing layout, where spring has definitely sprung….
In case you've lost your way on the layouts' trail, here is the complete list: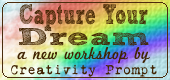 This year you can really make your dream come true!

"Capture Your Dream" workshop is a self-paced, six weeks long workshop, that will walk you through a journey of capturing your biggest dream and making it come true.

In the process of making your dream happen – with lots of inspiration and guided self-exploration, you will also create a mixed media mini album from scratch and learn many tips and techniques – including some photography pointers that will add character to your photos and will help you take better pictures of your projects.

The workshop includes 30 printable PDF lessons with step-by-step pictures and instructions as well as several printable templates you may use in other projects too.

I am confident you will enjoy it and find it helpful so I also offer full money back guarantee while the workshop lasts.