In light of the coming new year, I backtracked a little bit and gathered the most popular posts on creativity Prompt in 2009.
Without further ado, here are posts which attracted most of your attention and sparked a wonderful conversation – either on the blog or privately, via e-mails.
This is the time to announce that there will not be any more inspiration prompts on Creativity Prompt. In 2010 and onwards I would like to concentrate on more scrapbooking, card-making and craft projects as well as on story telling.
Share
What Inspiration Prompt did you like the best? Why? What nerve has it tingled?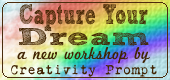 This year you can really make your dream come true!

"Capture Your Dream" workshop is a self-paced, six weeks long workshop, that will walk you through a journey of capturing your biggest dream and making it come true.

In the process of making your dream happen – with lots of inspiration and guided self-exploration, you will also create a mixed media mini album from scratch and learn many tips and techniques – including some photography pointers that will add character to your photos and will help you take better pictures of your projects.

The workshop includes 30 printable PDF lessons with step-by-step pictures and instructions as well as several printable templates you may use in other projects too.

I am confident you will enjoy it and find it helpful so I also offer full money back guarantee while the workshop lasts.
Tags: Best Of, Inspiration prompt, series