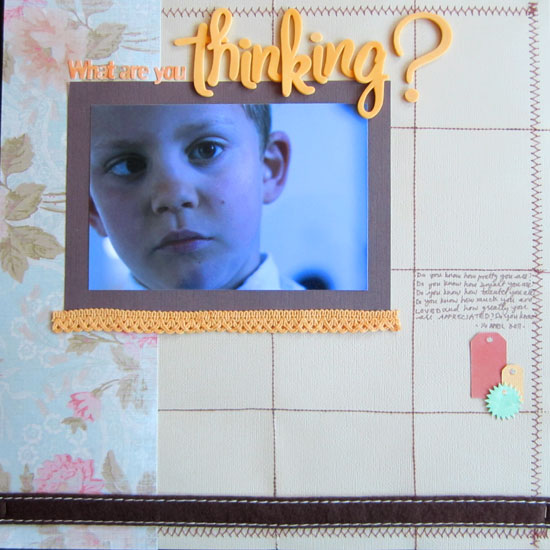 Sometimes the little ones have such profound look on their face that you cannot help but wonder:
what is going on inside their minds?
What are they thinking about?
Do they know how much they are loved?
[A LOT]
Do they know how amazing are they?
[VERY MUCH SO]
I really hope they do…
Products Used
Technique
Machine Stitching
First I lightly scored the grid with my Martha Stewart Scoring Board. For a 12″ by 12″ page I scored at: 3″, 6″ and 9″ on both directions – horizontally and vertically.
Then I went through the scored lines with my sewing machine with a simple running stitch. I picked a longer stitch size to avoid any tearing.
To finish it off I stitched a nice, big again, zig-zag stitch all around the edges of the page.
To secure the stitching I put a blob of Glossy Accents on each stitch and thread "intersection" at the back.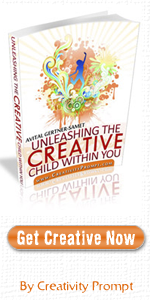 Back when we were kids creativity came naturally to us. Everything was possible and our prolific imagination was the only limit we knew.
Through the years we have grown apart from our inner creative child and along with that – have lost our pristine and utter joy of creation.
In this e-book I will pave your way back to your inner creative child, brick by brick.
"Unleashing The Creative Child Within You" will explain why you became distant from your core creativity and will reveal the secret to getting it back.
With exercises designed specifically to help you find the inner child within you, regain its confidence and unleash it – you are bound to get your mojo back faster than you think.
Your inner creative child wants to come out and play, so click here to get "Unleashing The Creative Child Within You" now.
Tags: creativity prompt, layout, scrapbook, scrapbook layout, scrapbooking