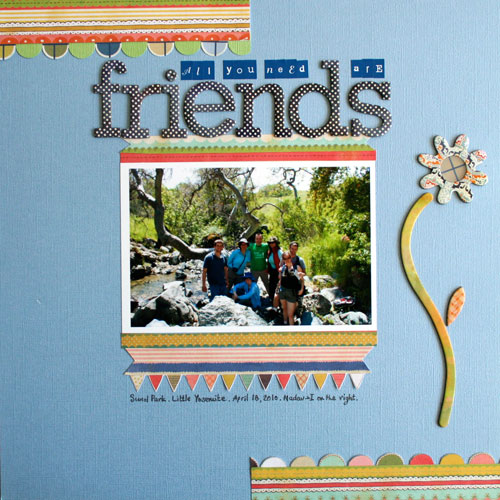 You live your life and along the road you get friends.
You have your kindergarten friends.
You have your school friends.
Your college and graduate school's friends.
Your work friends.
Your neighbor friends.
New friends. Life long friends.
You get to have so many friends.
Then you move thousands of miles away and you get to know how is it to have no friends at all.
Then you meet new friends and all is good again 🙂
Have you stopped for a moment to appreciate a friend lately? If not, take a moment to do that. It'll feel so good.
This picture was taken on a hiking trip with a few of our new and very dear friends. Nadav and I are on the right.
Supply Used
Background cardstock by Bazzil.
Chipboard letter stickers (and the flower too) from "June Bug" collection by Basic Grey.
Scrap paper.
Technique
Scalloped Borders
Most of the borders I used were cut outs of a single paper from Crate Paper's paper pad. I simply followed the shape of the circle and pennants on it. But on the top left corner I wanted to create a fast border to mimic the same look. Here's how I did that.
I punched some mini circles from an old polka dot paper I had a scrap of (utilizing the circular shape) and also punched a few mini circles from a scrap of green cardstock.
I adhered a strip of tape to the back of the border strip and adhered the circles on it, one by one, so that only half of them would show on the other side, making sure that they all laid flush with one another.
Then I finished off by cutting the excess circles that popped out of the strip.
You can use the same technique with different kinds of punches to achieve different type of scalloped edges. For instance, I used a starburst (pinked circle) shape on a different layout that I will share soon.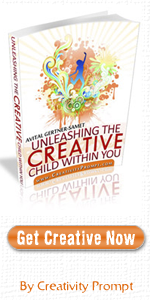 Back when we were kids creativity came naturally to us. Everything was possible and our prolific imagination was the only limit we knew.
Through the years we have grown apart from our inner creative child and along with that – have lost our pristine and utter joy of creation.
In this e-book I will pave your way back to your inner creative child, brick by brick.
"Unleashing The Creative Child Within You" will explain why you became distant from your core creativity and will reveal the secret to getting it back.
With exercises designed specifically to help you find the inner child within you, regain its confidence and unleash it – you are bound to get your mojo back faster than you think.
Your inner creative child wants to come out and play, so click here to get "Unleashing The Creative Child Within You" now.
Tags: creativity prompt, layout, scrapbook, scrapbook layout, scrapbooking