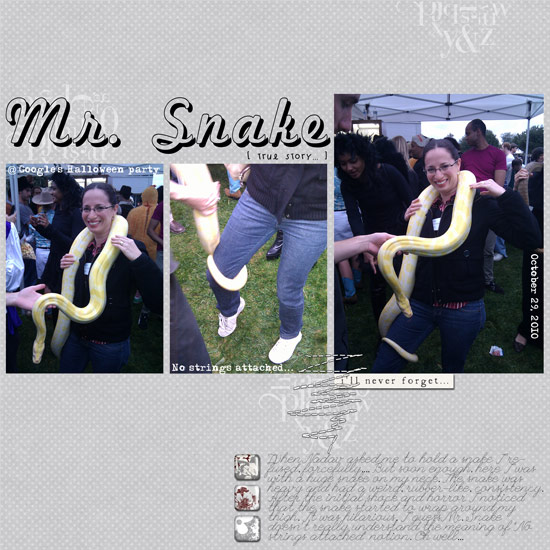 [
Fonts:
Marketing Script Shadow, Adler and League Script;
Digital Kit:
Our Story
by Karla Dudley for DHD.]
Journaling Reads
When Nadav asked me to hold a snake I refused, forcefully…. But soon enough, here I was with a huge snake on my neck. The snake was heavy and had a weird, rubber-like, consistency. After the initial shock and horror I noticed that the snake started to wrap around my thigh. It was hilarious. I guess Mr. Snake doesn't really understand the meaning of "No strings attached" notion. Oh well…
I am not a brave person.
More specifically, I am TERRIFIED of snakes.
I keep imagining there are snakes lurking whenever we go hiking in the woods or in a rocky trail.
I am crazy like that.
Therefore when my husband had the genius idea to put a HUGE snake around my neck – I wasn't exactly happy about it. To say the least.
But my husband has this quality about him to persist and insist until he gets his way.
And so he did.
And so I ended up holding the huge snake.
Facing my fears.
Breathing slowly, in and out. In and out.
And I made it without a heart attack, or any other attack.
I even enjoyed it.
It was rather amusing that the snake started wrapping its tail around my leg and didn't want to let go.
What do you think?
P.S. Did you check out yesterday's Giving Thanks Journal workshop? It's free.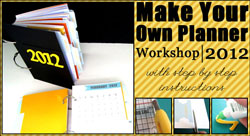 Check out Creativity Prompt's new and unique self paced workshop: "Make Your Own Planner".
This workshop will show you how to make a beautiful handmade planner for the year 2012. Not only are you going to get the entire meticulously designed planner kit for instant download, but you will also get a high resolution video tutorial as well as step-by-step instructions to guide you on each step of the way. Either treat yourself with a fresh and creative start for the coming new year, or get it to create wonderful gifts for your family and friends.
Join now
Tags: DT, fear, Halloween, Journaling Prompt, Karla Dudley, Self