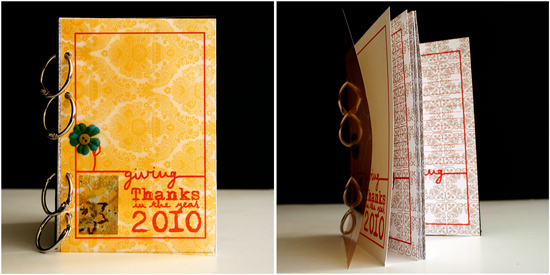 Thanksgiving Day is quickly approaching and I thought that a great way to give thanks is to collect all the things and all the people we are grateful for and write about them in a mini journal.
This Giving Thanks journal is what I came up with. It is 4″ by 6″ so it fits perfectly with 4″ by 6″ standard size photos and therefore quick and easy to put together.
I made the journal kit for you and created a video showing you how to put the journal together – in REAL TIME. You wouldn't believe how easy it is to make.
Feel free to use it as many times you need, for personal use only and don't forget to link back here, if you show your project online 🙂
The Journal Kit
To download each of the journal pages – right click on the link below and opt for "save target as":
Cover page. [Print once on 4″ by 6″ piece of cardstock]
Insert page. [Print as many time as you want, on 4″ by 6″ paper. You can also use the backside of your photos to print on]
Supply
Cardstock – to print the journal pages on. You can also use patterned paper or the back side of your photos for the inner pages. Each sheet of 12″ by 12″ patterned paper yields 6 pieces of 4″ by 6″ paper.
Cover pieces – I used 4″ by 6″ transparency and 4″ by 6″ piece of chipboard.
Small binding rings (or ribbon, twine, etc.)
Pencil
How To

[Go here to watch on YouTube and while there, please rate, comment and subscribe.]
Step by Step Instructions
Print the journal pages. You need 1 cover page and as many inserts as you please. It is simpler to first cut all the pages to 4″ by 6″ and then use them with your printer, the same way you would use photo paper.
Punch all the punching holes by aligning the black punching marks with your hole punch. Make sure both the mark and the hole punched are centered together – then punch.
To punch the chipboard piece (and your insert photos) align any of the punched pages with the chipboard piece and mark all the holes with a pencil. Then repeat the previous step with the chipboard.
Put together all your pages and bind with the binding rings.
Share
What are you thankful for this year?
If you enjoyed this workshop you would probably enjoy the more elaborate "print and assemble" workshops by creativity prompt.
Try "Welcome Little One" if you are expecting a new baby to enter your life or the life of a loved one and "Make Your Own Planner 2012" to create your very own industrial chic planner.
Tags: creativity prompt, freebie, mini-album, mini-book, Thanks, thanksgiving, Video Tutorial, workshop