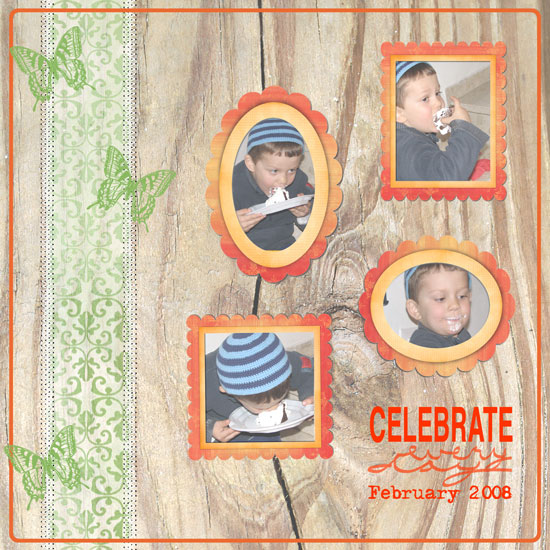 [
Fonts:
Helvetica, Adler;
Digital Kits:
Bazinga
by Shimelle Laine and Digi Essentials by
Karla Dudley
.]
I took a personal challenge which took me away from my blog for a while. I had no time. No weekends. Almost no summer – but worse than all of that – absolutely no time, not even a few stolen minutes, to create.
Now I finally got my "freedom" and with it more time and a layout…
After a long pause in creating anything I feel rusty. I am not pleased with my layout but I am always giving myself permission to let go. Creating should be fun and not frustrating, so all the pressure gets tossed out and only the beautiful stories and enjoyment of the hobby get to stay in.
The important thing, in my opinion, is showcasing my nephew's series of pictures that tells a story I remember fondly. The pictures remind me of that evening, celebrating his birthday on our first visit home after we have moved far away. I remember how he ravished the cake and enjoyed every little piece of it. A joy so pure, only a child knows how to experience it.
I don't mind if the layout isn't the prettiest of them all (what an understatement…) – at least I had a chance of playing with Shimelle's fresh and summary kit, Bazinga.
Having said that, in a week and a half, my parents will cross the ocean and two continents to visit us here for the first time. They will stay with us for three weeks of much anticipated together time. Therefore I am not sure how steady will my posting schedule be, but I have so much planned. So many new tutorials, giveaways and a couple new workshops – so please be patient with me – I am sure you will be rewarded for that.
See you all real soon 🙂
Tags: Digital Kits, Digital Scrapbooking, DT, Personal Notes, scrapbook layout, Shimelle