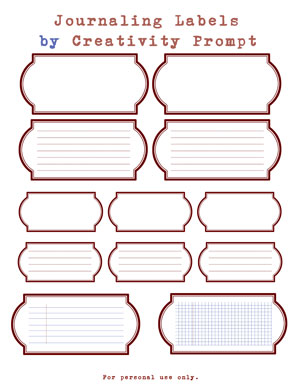 This week I want to share a FREE set of trendy journaling labels.
You may download them, save them and print them as many times as you want (for personal use only.) A mention would be great too…
This is the set I used to make this gatefold thank you card.
To download the set simply click on the image (or the link) and if it doesn't work try to right-click on it and opt for the "save target as…" option (it may be phrased a bit differently on different operating systems).
I hope you like it and have lots and lots and lots of fun with it.
Make sure you didn't miss the rest of the free printables on Creativity Prompt.
So What Can You Do With These Printable Labels?
Use them as journaling spots on scrapbooking layouts.
Use them on your cards.
Use them for addressing envelopes (idea by Lisa Spangler).
Use them as spice jar labels (idea by "the Tiny Homestead").
Use them for a mini book (idea by Kathy).
Use them as notebook labels.
Use them to "tag" your books.
Use them as gift tags.
Use them to organize your closets or your pantry.
Use them for random acts of Kindness, by writing cheerful messages on them and spreading them out!
Share
How would you use the journaling labels? Please leave a comment and tell me your secrets.
If you have a special printable request, do tell and I will try to make some dreams come true.
For next week I have a lovely set of fancy journaling labels to share, so stay tuned!!!
Tags: creativity prompt, freebie, journaling labels, journaling tags, printable