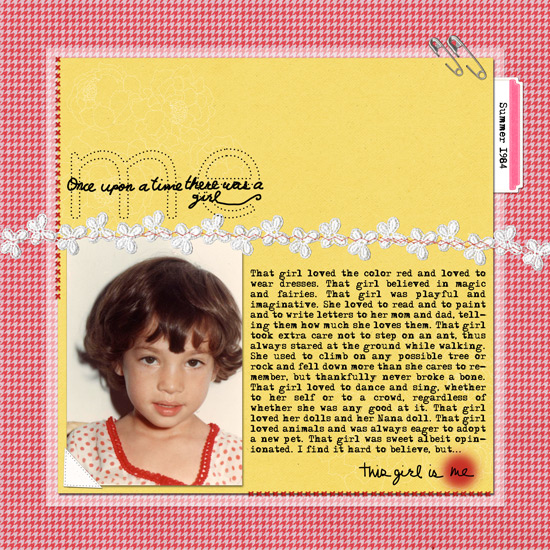 [
Font:
Adler;
Digital Kits:
Friends (yellow PP), Crasy In Love (background PP – recolored), Modern Marvel (red stitches – recolored), Dotty Alpha ('me'), Just Thinking (all other elements) – all by
Karla Dudley
.]
Journaling reads:
Once upon a time, there was a girl. That girl loved the color red and loved to wear dresses. That girl believed in magic and fairies. That girl was playful and imaginative. She loved to read and to paint and to write letters to her mom and dad, telling them how much she loves them. That girl took extra care not to step on an ant, thus always stared at the ground while walking. She used to climb on any possible tree or rock and fell down more than she cares to remember, but thankfully never broke a bone. That girl loved to dance and sing, whether to her self or to a crowd, regardless of whether she was any good at it. That girl loved her dolls and her Nana doll. That girl loved animals and was always eager to adopt a new pet. That girl was sweet albeit opinionated. I find it hard to believe, but… this girl is me.
On A Personal Note
I know you must be thinking: "Is she kidding me? She's been MIA for almost 3 whole months and then posts a layout, as if nothing had happened". You are absolutely right to be thinking that. However the only answer I can give right now is: No. I am not kidding. I really, REALLY appreciate your love and support through a stressful period in my life, which is not completely behind me – but I am going to do just that. I am going to post as if nothing has never happened. I hope you are okay with it. I love you too.
Tags: Digital Scrapbooking, Karla Dudley, scrapbook layout, Self