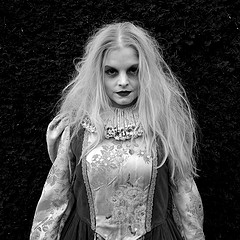 [Photo by:
THOR
]
Halloween is right around the corner (for those of you celebrating this holiday).
This holiday had started as a Celtic New Year ceremony and evolved along the years to a festival of the dead.
In north America houses are being meticulously decorated with spooky decorations and jack-o'-lanterns.
For a different spin on the traditional holiday journaling about "Trick-or-Treat" adventures, the evolution of a costume or transforming the house, try to foster the holiday spirit by registering a real life spooky experience you have once had.
Have you ever been through scary circumstances?
Has a scary looking person ever come across your way?
Have you ever stood up close to a scary animal?
Have you ever experienced a scary incident/event?
Have you ever had to do something scary?
Share
Have you had a real life spooky experience you'd like to share with us? Share by leaving a comment on this post.


Tags: fear, Halloween, journaling, Journaling Prompt, spooky