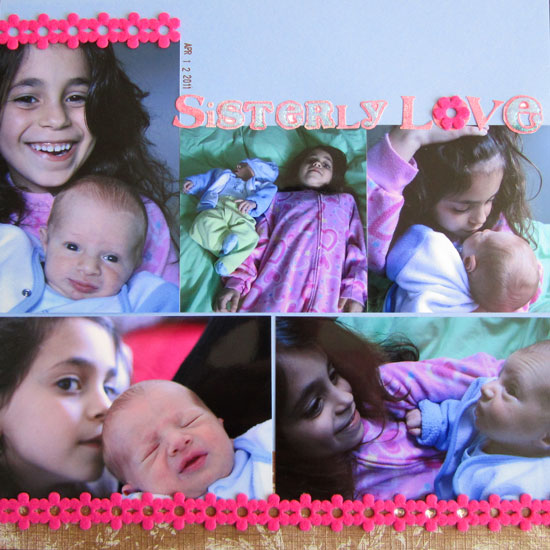 My niece is the same age I was when my young sister was born.
8 years old.
Such a lovely age.
Which is why I understand completely the love-hate relationship between them.
On the one hand, she loves him wholeheartedly and wants to look after him.
On the other hand, she gets frustrated when her mom doesn't think 8 is old enough to be trusted alone with him.
Plus… he did take away some of the attention.
What I didn't know and she doesn't know, is that she is still very much loved.
She is still the little princess in the family.
I just hope the little guy won't hold a grudge against her.
I know that my little sister did does.
Sorry.
It was all out of love.
Products Used
Cardstock by Bazzil.
Patterned Paper by K & Company.
Trim by Michael's.
Letter stickers by Basic Grey.
Stickles glitter glue in Crystal.
Smash date stamp by K & Company.
Technique
To use up my sticker sheet I cut around the outline of letter stickers I've already used with precision scissors.
Then I filled up the outline with Stickles. Which in retrospective, wasn't the best idea. I think using Glossy Accents would have been better to achieve my dimensional goal.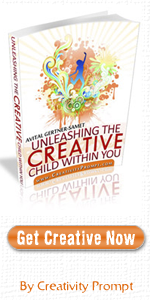 Back when we were kids creativity came naturally to us. Everything was possible and our prolific imagination was the only limit we knew.
Through the years we have grown apart from our inner creative child and along with that – have lost our pristine and utter joy of creation.
In this e-book I will pave your way back to your inner creative child, brick by brick.
"Unleashing The Creative Child Within You" will explain why you became distant from your core creativity and will reveal the secret to getting it back.
With exercises designed specifically to help you find the inner child within you, regain its confidence and unleash it – you are bound to get your mojo back faster than you think.
Your inner creative child wants to come out and play, so click here to get "Unleashing The Creative Child Within You" now.
Tags: creativity prompt, layout, scrapbook, scrapbook layout, scrapbooking