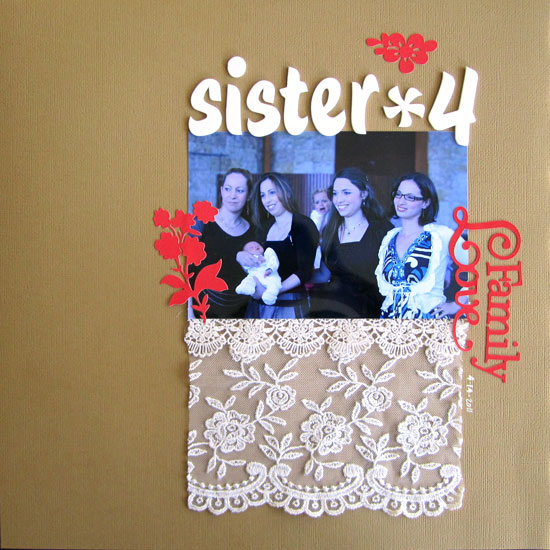 Again, very simple notion – the four of us.
We are four sisters. We love each other. We were finally together.
That. Is. All.
The layout is as minimalistic as the idea behind it – a photo, a title and a couple trims, sewn together.
Products Used
Background cardstock is by American Crafts from the Neutrals collection.
Letter stickers by American Crafts.
Red flowers and letter stickers are by Anna Griffin.
Lace trims are from a store in Haifa Israel, called: "Everything For The Seamstress" (For the Israeli readers, it's on 2 Menachem street).

I mention her store because for every piece of trim I had paid for, the sales lady generously gave me at least 3 others from her "scraps" which were as large/ long as the ones I had bought. Such a big-hearted woman. [By the way, that was 2 years ago, when I visited Israel and she did not know I have a blog, so she obviously didn't do that for the mention]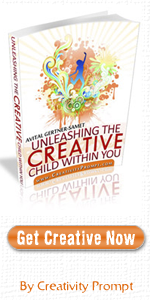 Back when we were kids creativity came naturally to us. Everything was possible and our prolific imagination was the only limit we knew.
Through the years we have grown apart from our inner creative child and along with that – have lost our pristine and utter joy of creation.
In this e-book I will pave your way back to your inner creative child, brick by brick.
"Unleashing The Creative Child Within You" will explain why you became distant from your core creativity and will reveal the secret to getting it back.
With exercises designed specifically to help you find the inner child within you, regain its confidence and unleash it – you are bound to get your mojo back faster than you think.
Your inner creative child wants to come out and play, so click here to get "Unleashing The Creative Child Within You" now.
Tags: creativity prompt, layout, scrapbook, scrapbook layout, scrapbooking