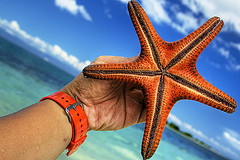 [Photo by:
Jeremy Villasis
]
Summer is officially here and we are daydreaming about the perfect destination for the perfect summer vacation.
Guess what? Any destination you pick up, any exotic place you are dreaming to visit, has locals that reside there all year round and call it home. Pretty desirable, don't you think?
Now that you've been pondering about all those lucky people living in a magical country/state, think for a minute about your own city and state. You also reside in a place where occasionally people come to on their vacation.
For this week's journaling prompt try to think about your own city (or village…) and your own state (or country) as a prime vacation destination.
How would you describe your city to a tourist?
What are the greatest attractions in your town?
Which are the most beautiful places to visit?
Which are the best restaurants?
Where is the best place to do some recreational shopping?
Where is the ultimate hiking trail?
Take your journal and a pen and answer those question. Become excited with everything your own city and state has to offer and create important documentation for your posterity…
Share
What do you love most about your city – (and which city are you coming from)? Leave a comment and share your local-loves.
Reminder
Don't miss a one-of-a-kind workshop and join "Capture Your Dream" today!