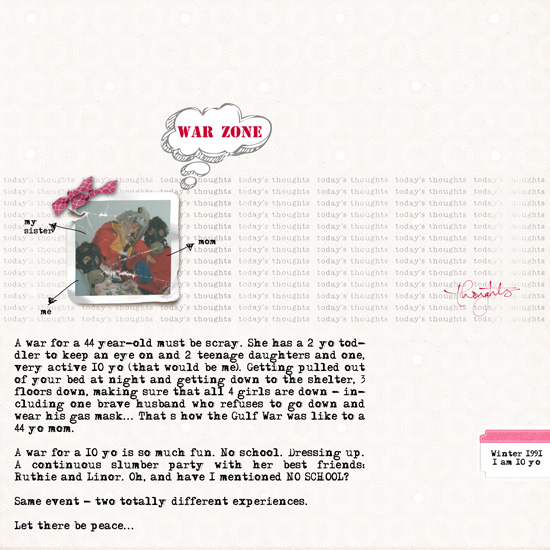 [
Fonts:
Stencil (title), Adler;
Digital Kits:
Just Thinking
by Karla Dudley (all elements plus PP) and
Torn Bits 4
by Creashens (torn picture frame).]
Background Story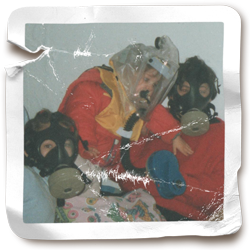 In 1991 the Gulf War had reached Israel. Iraq bombarded Haifa and Tel Aviv (and other nearby cities) with Scud missiles and the word had it that the launched missiles may contain nerve agents, so we had to wear a gas mask every time the siren went off and get into an air-tight shelter. I was 10 at the time.
You all must be thinking it was a harsh experience for me. Being so little and having to cope with war, shelter and a gas mask. But it wasn't so. Not at all. Not for me…
I can only imagine what my mother and father felt at the time. It must have been hard for them. They had 4 daughters: 16, 15, 10 and 2 year-old. They had to make sure we wore our gas masks properly. They had to lug their gas masks to work and worry about us and what we are going to do if the siren went off when thy're not at home. They had to clean the shelter and move our mattresses there. they had to make sure we have a TV set and enough toys and knickknacks to keep us busy. For them it couldn't have been easy.
For us [me] it was fun. I had a prolonged slumber party with my best friends who happened to be my neighbors. We didn't have to go to school (after a while) and could go to sleep late at night and sleep in the next day – as long as the siren didn't go off… Fun times.
Journaling Prompt
Write about an experience you've had but take two different perspectives. It is a good learning experience and a very good writing drill.
Will you give it a try?

Check out Creativity Prompt's new and unique self paced workshop: "Welcome Little One". This workshop will provide you with everything you need, and then some, to make a fabulous handmade mini album to record the first moments of a new born baby.