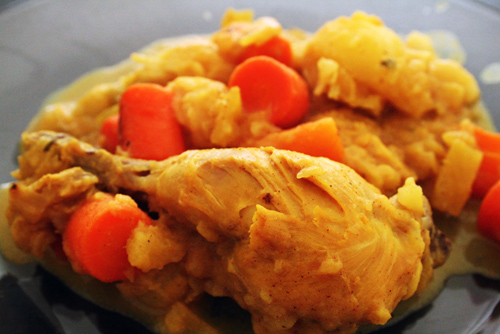 I am a part time vegan-vegetarian… That means that every once in a while I eat meat or fish for a boost of iron and other good things.
A rich stew with chicken and vegetables brings me back home to Shabbath lunches with my family. It's my comfort food and there is no better time to eat comfort food than when the temperatures drop down and a woolly is not enough to keep me warm.
Chicken With Pineapple & Vegetables
4 Servings. 400-450 Calories per serving (depends on the size of the chicken).
Ingredients:
4 chicken drumsticks
8 new potatoes
2 carrots – sliced into large 1½" chunks
10 pearl onions
1 small can of light crushed pineapple
2 Tbs. Cinnamon
2 Tsp. pumpkin spice
1 Tbs. turmeric
1 Tbs. curry powder
1 Tsp. mace
½ Tsp. cloves
2 Tsp. cyan pepper, for an extra kick of spiciness
2 C chicken broth
Olive oil spray
How To
Put a Dutch Oven on the stove on high and lightly spray with olive oil.
When the pot heats up – throw in the vegetables and saute for 5 minutes.
Remove the skin from the chicken pieces and add the skinless chicken to the pot – scald each piece on both sides.
Add all the spices in and stir well.
Pour in the content of the pineapple can and fill the empty can with chicken broth and add to the pot.
When the liquid is boiling, turn down the heat to low and cover the pot – Let it cook for 40 minutes.
Serve with a light green salad and bon appétit.
Share
Have you tried this recipe? Are you going to give it a try? Share your thoughts by leaving a comment.
Check out the new "Make Your Own Planner" workshop and you may solve this year's holiday gift shopping problem. An affordable workshop that keeps on giving…