Posts Tagged 'Smash Books'
Thursday, June 2nd, 2011
About 2 weeks ago I purchased a few items from the new cool concept line by K&Company, called: "Smash Books". I received my fun-mail last Wednesday and I LOVE LOVE LOVE it! There is absolutely no good reason for not updating you guys before, but here I am. Updating. Better late than never, right?
My Review
I got the pink/ pretty book because I am a girly girl.
The cover of the book is fabulous. The floral design is actually embossed into the craft hardcover.
The inside of the book is lovely too. Each page is different. Some come in a double-page-spread and some are individually designed.
Aside from the cool page design that includes: flowers, maps, wallpaper design and more they also have many pages that include journaling prompts and other graphics that encourage and inspires to use the book on a daily basis. I LOVE that!
I am not crazy about each and every one of the page designs. Some are really awesome and some are less awesome.
For list lovers, this book also has several list type prompts, such as: current memories, top ten, highlights of today and a book list. I think those are fantastic too.
I also bought a couple of the smash pads and I really like them. The designs are cute and the prompts are wonderful. I just wish there would be different designs instead of 4-5 pages of the same design but for $1.90 it is more than what I have expected (not to mention that other brands also sell duplicates of the same designs for more).
The pen/glue thingamajig is wonderful. The pen has a fine Sharpie-like tip and it writes very smoothly and the glue is great too. The idea of having them both together on the same stick is downright genius.
I would recommend these books to any one who likes to capture and record memories, stories and ideas. It's perfect for that.
I would not recommend buying that as an alternative to a traditional scrapbook or a mini-album. For that purpose I think picking the colors and designs a-la-cart would be a better choice.
Now I want to try the doodle, retro and mod designs too!
IT IS ADDICTING.
On the inside flap of the book protector it enumerates all the things you are encouraged to tuck inside the book, I think it's inspiring, so I'm going to write it down for you guys:
Wish Lists
Magazine Clips
Cookie Fortunes
Feathers
Recipes
Ticket Stubs
Favorite Movies
Snapshots
Doodles
VIP Passes
Postcards
Kid Quotes
Love Letters
Paint Swatches
Notes to Self
Jokes
Favorite Quotes
Project Ideas
To Do Lists
Business Cards
Favorite Songs
Cocktail Napkins
Souvenirs
Newspaper Clips
Reading Lists
Sketches
Poems
Design Ideas
Fabric Swatches
Life Lists
Fan Club Stickers
Greeting Cards
Swizzle Sticks
Wrappers
Now, even if you do not have a Smash Book [though I highly recommend it], you can uses these smash prompts and make your own book on a plain composition notebook.
Share
What do you think? Do you love this idea too? Do you have a Smash Book? Share by leaving a comment.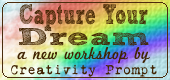 Check out Creativity Prompt's self paced workshop: "Capture Your Dream". In this workshop you will capture, follow and make your dream come true as well as document your journey in a fabulous mixed media mini album.
Wednesday, May 18th, 2011
They are available at the Two Peas Store.
I snapped one, ASAP, before everything got out of stock.
These are the items I got:
I will share, as soon as I get my things [for which I paid with my own money – my husband may beg to differ… hmm].
While at it, I also got these stamp sets, because they were so inexpensive and the fonts are so cute:
SO? What do YOU think about these?